12th Jan 2022 - 07:00
Image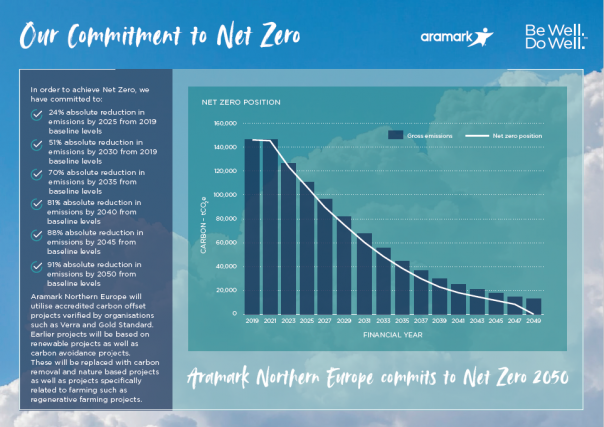 Abstract
Aramark Northern Europe has announced its commitment to become a net zero carbon organisation by 2050, making it the first region in Aramark's global operations to set a reduction glide path.
The clearly defined carbon reduction target, based on a 2019 assessment baseline, encompasses all of Aramark Northern Europe's Scope 1 and Scope 2 foodservice, workplace solutions and facilities management.
Frank Gleeson, chief executive of Aramark Northern Europe, commented: "We are taking a collaborative approach to solving this global challenge, we are working to tackle climate change so that we can make a difference across all the sites and communities in which we operate.
"Aramark Northern Europe, including our UK, Ireland and Global offshore business, has worked diligently, to understand, interrogate, and improve upon the impact of our operations; all the while ensuring that we also improve our services for clients and customers alike."
Aramark Northern Europe's Net Zero commitments are built around areas where it can have the most impact:
Transport: Replacing the existing fleet of diesel and petrol owned and leased vehicles to electric vehicles (EV) as soon as is practical.
Energy efficiency: All electricity contracts will be procured from renewable or low carbon sources. 
Goods and services: In Northern Europe, Aramark has already been moving towards a higher percentage of plant-based meals along with the development of a science-based climate friendly menu proposition. 
Source locally: Aramark prides itself on a long-standing commitment to identify, partner with, and support local producers. 
Reducing waste: Aramark will trial software that tracks and manages food wastage, indicating possible changes to menus and portion sizes.
Travel: Aramark will encourage their staff to embrace technology to limit travel.