1st Jul 2021 - 08:47
Image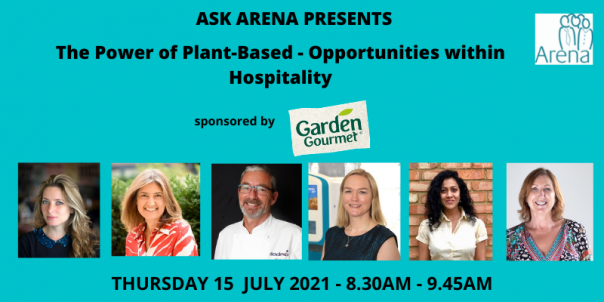 Abstract
Arena's next virtual event, 'The Power of Plant-Based- Opportunities within Hospitality' will take place on Thursday 15 July from 8.30 to 9.45am.
The webinar will discuss how operators and caterers are adapting their menus to meet the rise in consumer demand for plant-based meals. According to Deloitte, the plant-based alternative market is set to grow from €1.5Bn to €2.4Bn by 2025 in Europe with the UK being the largest market.
The headline sponsor for the event is Garden Gourmet, the plant-based meat alternative brand that offers a versatile choice of vegetarian and vegan products to customers without compromising on taste.
The panellists on the webinar include David Mulcahy food innovations and sustainability director at Sodexo UK & Ireland, Kate Alexander head of commercial channels at Nestle Professional and Lizzy Barber head of brand at The Hush Collection.
The webinar will explore how operators are marketing plant-based offerings to flexitarian, vegetarian and vegan consumers. Rohini Alam, category manager of food at Nestle Professional will also give a presentation looking at trends within the plant-based sector.
To register for this FREE event, visit here.