17th Nov 2023 - 05:00
Image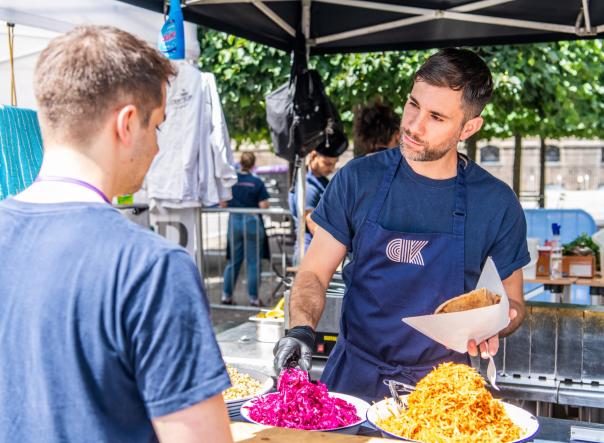 Abstract
Fuel, BaxterStorey's street food agency, has set in place minimum spend guarantees, cancellation policies and increased minimum cost per head expectations for all vendors.
The move follows the findings of a report it commissioned looking at how changing trends and customer behaviours are affecting workplace dining, contract catering and street food traders.
Through these changes, BaxterStorey hopes to better support regional community businesses by providing security through its platform, respecting the craft, heritage and culture these smaller operators are trying to preserve.
The commitments include:
Minimum spend guarantees for every booking
Cancellation policies (policies in place for cancelling bookings at one month, two weeks and week of) to protect loss of potential earnings to the trader(s)
Encouraging subsidised or client-paid events to ensure low-risk for traders 
Greg Bramwell, director of food, BaxterStorey, said: "People want authentic experiences which ignite all their senses, and Fuel brings that craft, creativity, and theatre right into the workspace.
"Creating these memorable moments through food has great potential for employers looking to encourage people back in. It's fresh, exciting, and gives them ability to use under-utilised office space into foodie festivals, for example, which can have a hugely positive impact on their workplace culture.
"We have a duty of care to champion this diverse segment of our industry and our latest development demonstrates our commitment to use our size and platform to protect street food operators. By providing spaces and a level of security ensures they can stay remain authentic in these challenging times for hospitality operators."
Launched in 2018, Fuel has engaged more than 100 street food vendors across the UK, including bringing their concepts to workplace dining outlets. 
Nick Lazardes from Cyprus Kitchen, added: "This commitment from BaxterStorey will not only help companies like ours, but will also go some way to creating sustainable business models for so many others. This can only be a good thing for individuals and the wider economy."