8th Nov 2019 - 05:00
Image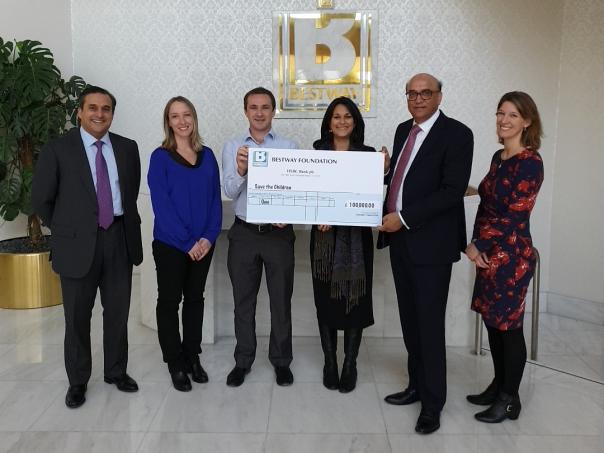 Abstract
Lord Zameer Choudrey, chief executive of Bestway Group, presented a cheque for £100,000 to charity Save the Children at Bestway Group's Head Office in Park Royal.

The funds were raised at Bestway's annual Ascot Charity Race Day held in the summer, where over 800 people attended. Over 20 charities have benefitted from this event since it launched in 1994.
Save the Children supports children in need of education, healthcare and economic opportunities across the globe. The £100,000 donation will support almost 400 children and parents living in poverty in the UK by providing tools to help children learn at home.
Sayyeda Salam, partnerships and philanthropy director at Save the Children, said: "We are incredibly grateful that Save the Children was chosen as the beneficiary for Bestway's 2019 Royal Ascot Charity Race Day. It was a huge honour to be invited to be part of this prestigious event for the second time marking Save the Children's 100th year.
"Thanks to the generosity of Bestway and their guests the day resulted in an amazing donation of £100,000 that will make a real difference to help us support children in the greatest need both in the UK and globally across education, healthcare and disaster relief. We look forward to further building our partnership with Bestway."
Since 1987, Bestway Group has donated more than £14.8 million to Bestway Foundation UK.
Lord Choudrey, added: "We are delighted to support the work of Save the Children for the second time – made even more special by the fact it's the charities big 100th year anniversary this year.
"The Annual Ascot Charity Race Day is just one of the ways that Bestway Foundation gives back to people in need and we are very grateful to our supplier partners and colleagues for supporting this annual event and donating generously to ticket purchases, the Charity Auction, Tombola and other fundraising activities back in June."