13th Aug 2021 - 06:00
Image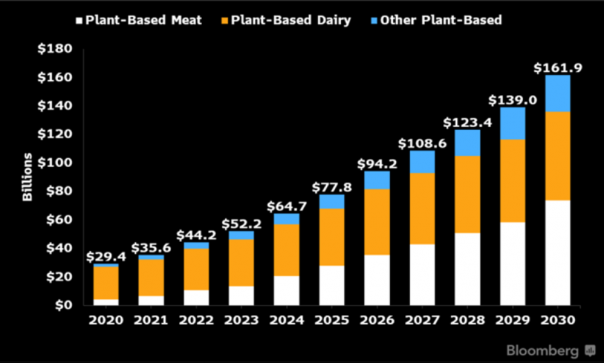 Abstract
The plant-based foods market could be worth $162Bn (7.7% of global protein market by 2030) according to a new report by Bloomberg Intelligence.
The report Plant-Based Foods Poised for Explosive Growth predicts industry giants including Beyond Meat, Impossible Foods and Oatly will drive an increase in plant-based food options as they partner with restaurants and major chains.
Jennifer Bartashus, senior consumer staples analyst at Bloomberg Intelligence said: "Food-related consumer habits often come and go as fads, but plant-based alternatives are here to stay – and grow. The expanding set of product options in the plant-based industry is contributing to plant alternatives becoming a long-term option for consumers around the world.
"If sales and penetration for meat and dairy alternatives continue to grow, our scenario analysis suggests that the plant-based food industry has the potential to become ingrained as a viable option in supermarkets and restaurants alike. Meat and dairy alternatives could even obtain 5% and 10% of their respective global market shares in the next decade."
Bloomberg Intelligence expects population growth to cause a strain on resources and contribute to plant-based food growth.
BI projects the alternative meat market to excel in size from $4.2 billion to $74 billion in the next ten years. The major drivers of plant-based growth include increased awareness of health, sustainability benefits and decline of product price.