14th Feb 2020 - 07:00
Image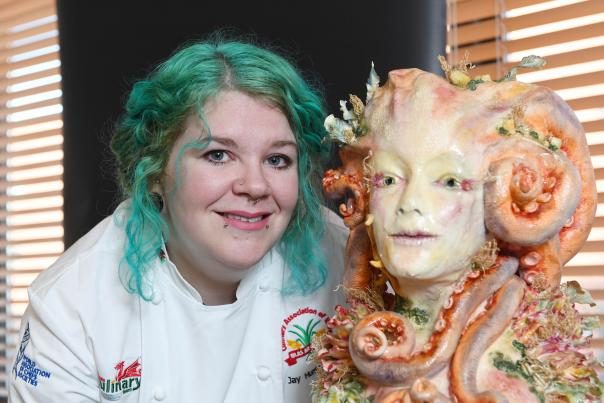 Abstract
Jay Humphris, catering and hospitality lecturer at Coleg y Cymoedd Ystrad Mynach, has joined Culinary Team Wales at the Culinary Olympics, which will take place from 14-19 February 2020.
She has been challenged with making an 'eye-catching centrepiece' to impress the culinary judges. Team Wales is not allowed to reveal images of the centrepiece until it has been displayed at the Culinary Olympics on 16 February. 
She said: "It started to burst into life as I added all the different elements. Hopefully, I have created a different look to everyone else.
"I am very happy with it and excited to be competing with the Wales team at the Culinary Olympics. It's a once-in-a-lifetime opportunity to compete against amazing talent from all around the world and it's going to be an awesome experience."
The Culinary Olympics is the biggest and oldest international culinary art exhibition. There will be around 2,000 chefs from more than 60 countries competing for medals. 
The senior team's competition is divided into two elements. The team presents its chef's edible buffet on Sunday 16 February and its Restaurant of Nations menu for 110 covers on Tuesday 18 February. 
Team Wales senior members include:
Nick Davies (combines the roles of team manager and member)
Sergio Cinotti (captain)
Will Richards
Matthew Smith
Mark Robertson 
Dylan Wyn Owens
Zak Pegg
Jay Humphris
Peter Fuchs (logistics manager)