20th Nov 2020 - 07:00
Image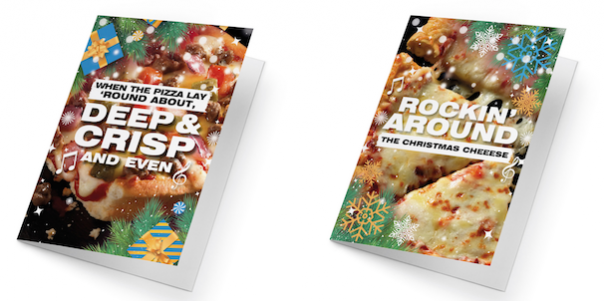 Abstract
Pizza company Chicago Town has released a series of six pizza themed Christmas cards to raise money for food redistribution charity FareShare.


The Christmas cards are available to buy on greetings card marketplace, Thortful.com, for £3.29 from the 17 November until 21 December.
There are six to choose from, including deep-dish cheeseburger, cheese stuffed crust loaded cheese and vegan stuffed crust sticky barbeque jackfruit.
All the profits raised will go towards FareShare who help redistribute excess food to vulnerable families across the UK. Last year FareShare provided enough food for nearly 57.3 million meals and this year the demand for their services has increased due to the impact of the Covid-19 pandemic.
For a limited time only the recipient of the Christmas card will also receive a voucher for a free Chicago Town pizza.
Rachel Bradshaw, spokesperson for Chicago Town, said: "What better way to say Merry Christmas to all the pizza fans out there than with a cheesy card and the gift of pizza!
"We know pizza lovers are passionate about flavour so we've made a card to suit every preference. With free pizza vouchers only available for a limited time you'll have to be quick to grab a pizza the action!"