31st Aug 2021 - 06:00
Image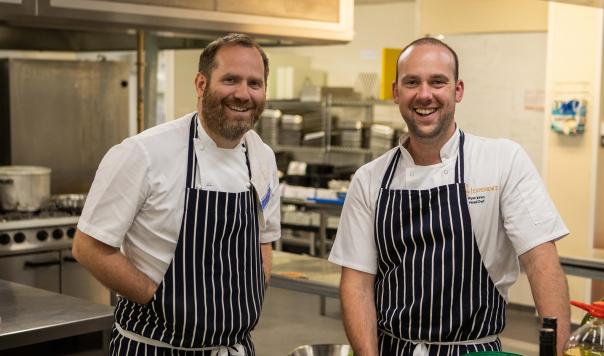 Abstract
Compass Cymru apprentices joined Bryn Williams this week, to kick off their culinary apprenticeship with a workshop in the kitchens of the Principality Stadium in Cardiff.
The group also teamed up with apprentices from training partner, Celtic Manor, with Compass Cymru Ambassador, Bryn, taking the participants through the importance of seasonality while preparing dishes including baked scallops, and marinated and grilled mackerel.
Compass Cymru managing director Jane Byrd said: "This first workshop in our new apprenticeship scheme is an exciting start for our team. We are proud to be working with our partners to deliver training, which will ensure the next generation of talent is nurtured and retained.
"The opportunities offered through our apprenticeship schemes will enable employees to change or enhance their careers, while supporting the future of our food, drink and hospitality industry in Wales."
The Compass Cymru Apprenticeship Programme aims to create career progression for individuals to work towards recognised qualifications. The company is working closely with Welsh clients, local businesses, hospitality industry stakeholders, colleges, and universities, with input from Williams and Compass chefs.
Apprenticeships on offer include Culinary, Front of House, Facilities Management, Business Administration, Retail, Customer Service and Management.
Jonathan Foot, head of apprenticeships and early careers at Compass Group UK & Ireland, said: "For our culinary apprentices, hands-on training, like this workshop, is key and getting the chance to learn from a Chef like Bryn Williams is a tremendous opportunity."
Bryn Williams added: "I truly believe working alongside other people is really the best way to learn, so I am pleased to be running our first workshop and meeting the Compass Cymru apprentices.
"Seasonality is key to the sustainability of food, so it was great to be able to discuss how to maximise our fantastic Welsh larder during this session."