23rd Nov 2021 - 09:32
Image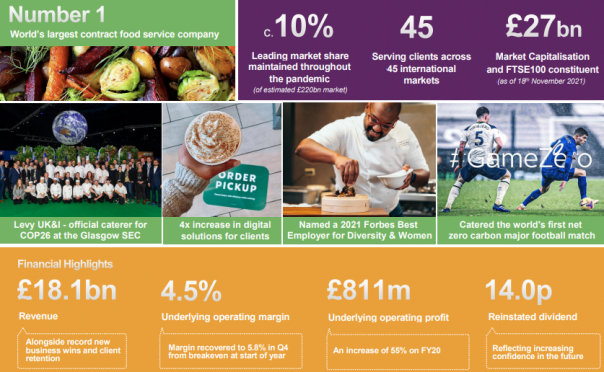 Abstract
Food service provider Compass Group PLC, which operates in 45 countries around the world and serves billions of meals a year, has issued its full year results.
Compass has delivered a strong year of recovery following the impacts of the pandemic last year, supported by record new business wins and client retention as well as hitting nearly 90% of pre-Covid revenues by the fourth quarter.
Operationally, the Group has seen significant growth in its digital offering, with a 4x acceleration in mobile (app-based) food ordering and vending solutions since the start of the pandemic.
Compass is leading the industry on sustainability, supported by its new global 2050 net zero commitment and its more ambitious UK & Ireland target to reach net zero by 2030.  
Dominic Blakemore, group chief executive, said: "Our strong financial recovery in 2021, including record new business wins and client retention, is a credit to our teams' exceptional resilience, dedication and expertise in extraordinary circumstances.
"We are pleased to be reinstating the dividend reflecting our strong cash flow and increasing confidence in the Group's performance. Looking ahead we are now focused on growth, driven by encouraging market trends and our ability to provide more bespoke, digital and sustainable solutions that meet the evolving needs of clients in a post-pandemic world."
The Group is also extremely encouraged by the recovery of its Sports & Leisure business, with growing crowds spending significantly more per person at their events than they did pre-pandemic.