23rd Jul 2021 - 06:00
Image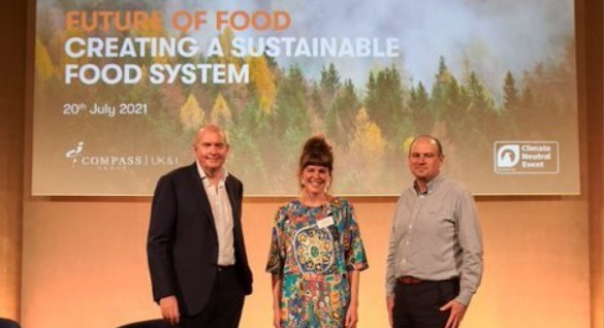 Abstract
Compass Group UK & Ireland hosted a meeting of clients, staff and industry colleagues to signal the services provider's intention to lead efforts to promote greater sustainability in the food system.
Food and climate experts, suppliers and influencers were invited to address the event and took part in roundtable debates on the issue. Several hundred gathered at London's QEII Centre for the event, with hundreds more joining online.
Global Compass Group chief executive Dominic Blakemore and Carolyn Ball, Compass Group UK & Ireland's director of net zero delivery, highlighted how Compass was looking to tackle reducing climate emissions through the creation of a sustainable food system.
The event was hosted to coincide with the announcement by the UK's largest food and services provider of its commitment to reach Net Zero greenhouse gas emissions by 2030.
As part of the company's 'Our Climate Promise', which outlines its broader set of commitments, Compass has pledged to use its platform as an industry leader to 'drive discussion around solutions to tackle climate change'.
Speakers at the conference included the UK's official Net Zero Business Champion, Andrew Griffith MP; who said: "Businesses can be global leaders in the fight against climate change and help make a real difference.
"With the G7 meeting in Cornwall concluded and COP26 just 100 days away, we have a huge opportunity to get this right. But we are nearing our last best chance to save our planet.
"I'd like to thank Compass Group UK & Ireland for joining the Race to Zero campaign and its leadership in driving the conversation around climate action. We hope that other businesses, small or large, will also join the initiative to help us to achieve our global targets."
Others addressing the event were renowned climate academic, Professor Sir Charles Godfray; and Diane Holdorf, managing director of Food & Nature for the World Business Council for Sustainable Development, who joined by video link from Geneva.
Anna Taylor, director of the Food Foundation and an adviser to the National Food Strategy, also spoke at the event, along with Nicola Weir, director of world climate for Deloitte; Dr Emma Keller, head of sustainability for Nestle; Christina Adane, co-chair of Bite Back 2030; and Christian Paynton, managing director of supplier United Fresh Consortium.
After the talks, the food services company held a food tasting session, showcasing its low-carbon menus, including Lincolnshire cauliflower stalk and leaves, samphire, along with Chalk Stream River Trout with a watercress sauce and roasted Worcestershire beetroot, carrot and sun-dried tomato with a cherry vinegar dressing.
Reflecting on the event, Robin Mills, managing director of Compass Group UK & Ireland said: "The world needs to feed a future population of 10bn people a healthy diet within planetary boundaries.
"We can only achieve this by transforming eating habits, improving food production and reducing food waste.
"The scale of this requires historic levels of transformation representing the biggest challenge our industry has faced. As the UK's largest foodservice business, we take our responsibility to transform the food system seriously and we're lucky to have great clients, suppliers and partners to help us.
"This event was a brilliant opportunity to discuss how we can move towards a sustainable food system and how we can achieve that together."