27th Aug 2021 - 06:00
Image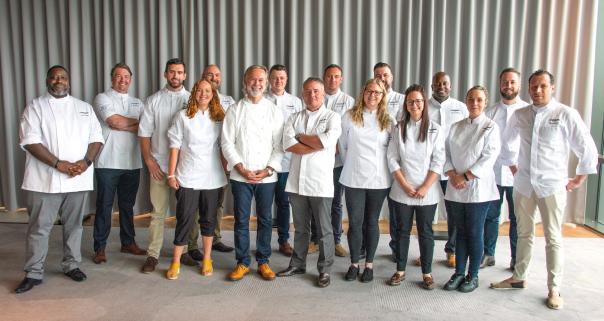 Abstract
Foodservice and support services company, Compass Group UK & Ireland, has announced a landmark culinary programme in collaboration with chef Marcus Wareing.
Called 'Forward with Marcus Wareing', it is an 'enhanced programme' which runs alongside a Level 4 Senior Culinary Chef or Level 5 Operations Departmental Manager apprenticeship standard.
It is being delivered in partnership with national hospitality training provider, HIT Training.
Wareing has been heavily involved in putting the programme together, which has a focus on areas such as sustainability, creating a more diverse kitchen brigade in terms of ethnicity and gender, developing mental 'first aider' skills, mentoring, and an analysis of different leadership styles.
He says: "This is a new, cutting-edge culinary training programme designed to build skills, grow knowledge and expand imagination, so candidates can take their career to truly exceptional places.
"Candidates will be able to explore every aspect of the modern kitchen, from culture to commerce, question assumptions and challenge conventions with guidance from myself."
The programme includes extracurricular enrichment activities across the UK which will deliver practical experiences to a group of chefs that have been designed to challenge the senses and reconnect with the elements.
Jon Davies, managing director of Levy UK + Ireland says: "This is such an exciting opportunity for our future culinary leaders, who will be learning directly from one of the UK's most dynamic and inspirational chefs.
"We're particularly proud to be one of the first in the industry to include a dedicated module on sustainability. Compass Group UK & Ireland is committed to becoming a Climate Net Zero business by 2030 and this module delves into the science to ask what else can be done to reimagine and reform the industry, giving our chefs a voice to become agents of change."
Jonathan Foot, head of apprenticeships and early careers at Compass UK & Ireland, adds: "This is part of Compass's commitment to support development at every stage of our people's careers – from the first rung of the ladder, right the way up to Executive Chef level.
"The 'Forward with Marcus Wareing' programme looks beyond cooking techniques to the social and commercial workings of the kitchen, and the realities of the climate crisis and food system. It is all about futureproofing our chefs and forging a new generation of industry leaders."
Dozens of chefs from across the business underwent the selection process, including an interview panel headed by Wareing.
The first cohort, which starts the programme in September, consists of 15 chefs:
Adam Fargin – Executive Chef, Levy UK + I, All England Lawn Tennis Club
Amy Duthie – Head Chef, Chartwells Independent site
Darren Passmore – Executive Head Chef, Healthcare, The Cromwell Hospital, Kensington
Jodie Plummer – Head Chef/Team Leader, Restaurant Associates, Aon Group
Josh Stanton – Executive Head Chef, Levy UK + I, The Kia Oval
Leanne Turk – Lead Development Chef, Compass Group UK & Ireland
Lee Brooking – Group Exec Chef, ESS Defence, South West
Matthew Lord – Group Exec Chef, ESS Defence, South West
Nicola Harper – Catering & Hospitality Manager, 14forty energy site
Phillip Jones – Group Executive Chef, Eurest, Jaguar Land Rover
Sam Morgan – Executive Chef, The Venues Collection
Seymour Millington – Head Chef, Levy UK + I, Sheffield United Football Club
Simon Coulter – Group Exec Chef, ESS Defence, East of England
Sonny Lee – Hospitality & Brasserie Head Chef, Restaurant Associates, Société Générale, Canary Wharf
Stowell Jernimain Barry – Unit Manager/Chef Manager, Healthcare, RMBI - White Oaks