29th Sep 2021 - 07:00
Image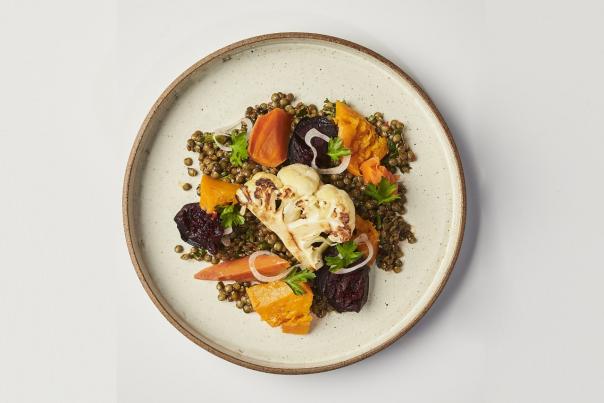 Abstract
Following the completion of an 'eco-labelling' pilot, Compass Group UK & Ireland's Business and Industry sector is rolling out the trial across its workplace catering sites.
The eco-labelling initiative sees dishes labelled A to E, to highlight which meals have a higher (E) or lower (A) environmental impact. The scoring is based on factors including greenhouse gas emissions, water scarcity, water pollution and biodiversity loss.
The data is then shared with researchers in the Livestock, Environment and People Labelling (LEAP) group who will monitor whether eco-labels nudge consumers to make more sustainable and planet-friendly meal choices.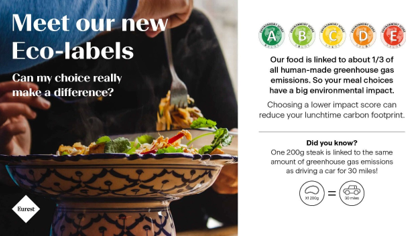 Eco-labelling was initially trialled by Eurest, the B&I arm of Compass, at 15 industry client sites that remained open throughout the Covid-19 pandemic. The company has been looking at a number of ways to create a sustainable food offer such as increasing the number of plant-based options on menus.
Liz Forte, health and wellbeing director of business and industry at Compass Group UK & Ireland said: "It's been so exciting to be part of something that not only is driving healthier eating habits, but also has great sustainability benefits too. We know our customers want choice and great tasting meals.
"We have seen an increase in our plant-forward sales and the feedback from customers has been fantastic. I am really looking forward to introducing these measures across our B&I client base. The trial will also inform future eco-labelling initiatives for the wider Compass business."
Placement of plant-forward dishes on the counters in front of the meat-based dishes, encourages people to try new things as customers view the dishes of equal relevance to traditional meat-based dishes. 
Working with LEAP, dishes descriptions were also reviewed and renamed – providing more detail and description of what was within each dish. For example big veggie bowl has become a hearty roasted squash & broccoli bowl with maple glazed lentils and warm satay noodle salad and satay noodles with rainbow veggie ribbons, sesame, lime & coriander. 
The B&I culinary team has been introducing more plant-based ingredients to their meat dishes, so where customers still want their traditional dishes, the vegetable and meat content has been changed at no expense of taste.
Professor Susan Jebb from Oxford University added: "It's given us a great opportunity to learn more about the feasibility of changing eating habits in the workplace, and to gather evidence on a range of interventions in real world settings.
"Though we have yet to analyse all the data, the insights from Compass and the response of their customers looks promising. We look forward to seeing the final results of the trials from sites around the country over the coming months."