1st Jul 2016 - 12:28
Image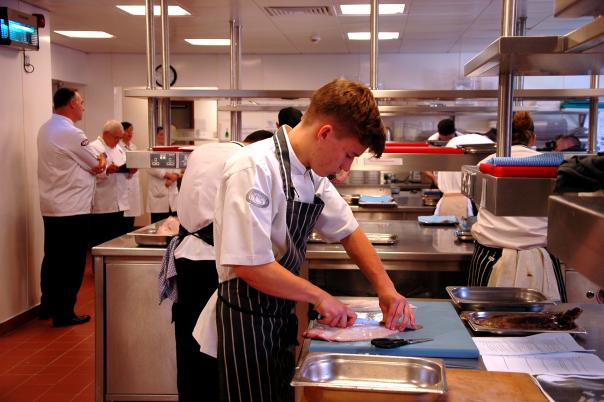 Abstract
Following a series of challenging heats on Tuesday, 28th June, 16 young chefs are one step closer to joining the Graduate Awards Hall of Fame.
The Kitchen and Pastry heats took place at the University of West London and University College Birmingham under the watchful eye of industry experts, led by Chair of Examiners, Russell Bateman.  
Launched in 2003 to formally recognise a young working chef's culinary excellence, the Craft Guild of Chefs Graduate Awards test the knowledge and skills of chefs in a series of culinary challenges. To make the grade, chefs must achieve a score of 85% or over in the final exam on August 30th. Those who do will receive this prestigious award at a presentation evening at the Park Lane Hotel on 6th September.
This year the Guild has introduced a new Pastry examination with the aim of raising the profile of pastry chefs and helping to combat the current skills shortage.
Finalists will now be invited to a mentor day, which includes masterclasses and culinary experiences to prepare them for the final. Tests for the main Graduate Award exam are butchery and fishmongery, a mystery basket challenge and the creation of a classic main course and dessert, with a series of pastry challenges being set for the four pastry finalists.
Founder and organiser of the awards, Steve Munkley, said: "I've been doing this for many years and the quality of establishments that the candidates have come from is amazing. It's possibly the best line up we have ever had with the first round scoring being very high. What is so special about this award is that all finalists could make the grade and with our mentor days, mentorship from employers and guidance from examiners, we'll be doing everything we can to help them achieve this."
Speaking about his new role in the Graduate Awards, Russell Bateman, said: "It's worth mentioning the task set would test many experienced chefs but those taking part handled the challenges wonderfully well, with composure and professionalism. It was also fantastic to see a diversity of culinary backgrounds and experience with chefs from contract catering, hotels, restaurants and even a college student. I was extremely happy with the standard of cooking and only see bright futures for all involved."
The chefs going through to the Graduate Awards 2016 final are:
Kitchen Award
Ben Brooke, Galvin La Chapelle
Erin Jackson Yates, Wiltons
Jake Leach, The Ledbury
Eleanor De Maria, Compass House
Keiron McGarrigle, Westminster Kingsway College
Andre Rhone, The Bingham
Amber Francis, The Ritz
Louise Ellen Roberts, Lexington
Joseph Allen, The Woodford
Lewis Kuciers, Black Bull
Aaron Middleton, Belmond Le Manoir
Dudley Pankhurst, Cunninghams Bistro
Pastry Award
Rita Souto, Park Lane Hotel
Fiona Bailey, The Dragon
Elizabeth McBride, Hix Soho
Kacey Bignell, The Mandarin Oriental Hyde Park
The Graduate Awards are sponsored by AAK, CCS, City and Guilds, Essential Cuisine, GRAM, James Knight of Mayfair, Mars Foodservice, Meiko, MKN, Reynolds, Savoy Education Trust, Schwartz, The London Meat Co, Villeroy and Boch, Warner Leisure Hotels and The Staff Canteen.