28th Jul 2020 - 08:40
Image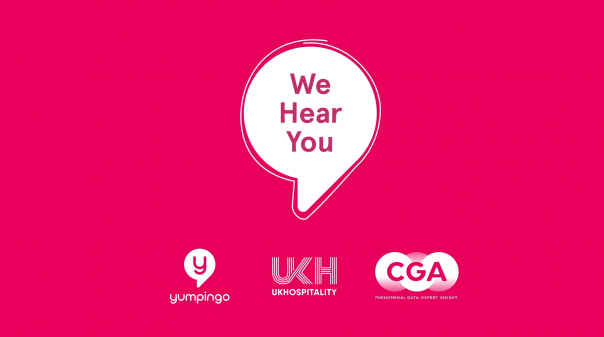 Abstract
Trade body UKHospitality, CGA and review platform provider Yumpingo have jointly launched a new campaign to help the hospitality and catering sector boost customer confidence and drive footfall.
Called 'We hear you', it allows the real-time monitoring of customer sentiment via several methods including QR codes, integration with Wi-fi and order and pay platforms. Diners complete a one-minute review on their experience enabling operators to monitor and act upon consumer feedback on Covid-19 precautions and customer satisfaction (net promoter scores) at brand, store, shift and dish level.
UKHospitality Chief Executive Kate Nicholls said: "We know the next six months will be crucial for hospitality and survival will depend on a concerted and joint effort from everyone within the industry.
"We've worked closely with the Government to ensure safe venues upon re-opening and the 'We hear you' tool, with help from operators, will ensure their customers are happy, comfortable and more importantly confident that the industry is listening and doing what it can to make them feel safe."
"While feedback on eating out experiences have so far been positive, CGA research reveals that only one in three consumers who previously ate out regularly have returned to doing so, giving the hospitality sector a challenge to rebuild customer confidence and re-establish the going-out habit."
The scheme's partners are urging operators to sign up for the free service, following the lead of some of the UK's biggest brands including YO! Sushi, Zizzi, Loungers, Robinsons Brewery, Pizza Express and LEON.
In the first two weeks of opening several thousand consumers have already provided real-time reviews of their experience, giving valuable insight for operators ahead of the Government's Eat Out to Help Out scheme to drive customer visits in August.
The results also provide a benchmark of progress on consumer confidence nationally, regionally and by service style, which will be fed back to Government.
Gary Goodman, chief executive and founder of Yumpingo added: "As an industry, we must unite to support 120,000 plus restaurants, bars and cafés in the UK to make sure the industry rebounds as quickly as possible.
"The sector responded brilliantly at the start of the pandemic, but the re-opening phase now offers up a new challenge. We hope that 'We hear you' will not only provide customers with a sense of confidence, but will also relieve some of the pressure operators across the UK are facing with new guidelines and rules."
'We hear you' is a free service to all hospitality venues. For more information click on: https://www.yumpingo.com/wehearyou