29th Jun 2022 - 06:00
Image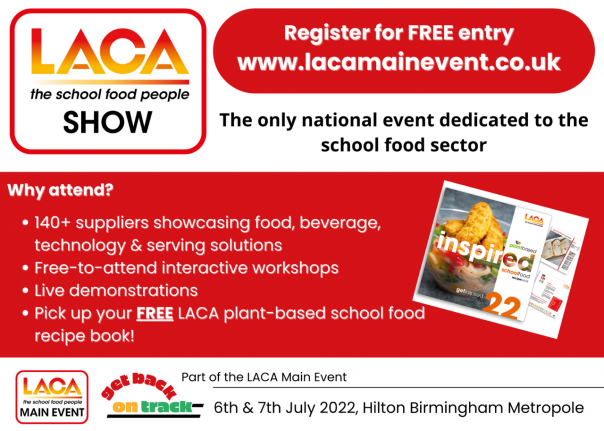 Abstract
School caterers, managers and contract caterers can attend the School Food Show (6-7 July) at the LACA Main Event free of charge.
Returning to the Hilton Birmingham Metropole next week, the School Food Show is the only national event dedicated to the school food sector.
With over 140 exhibitors, Main Event organisers say it is the ideal place to find solutions to a wide range of requirements from food and beverage products which can help those working in education catering to meet all the nutritional standards and guidelines.
Regular visitors say that one of the greatest benefits of being at the Main Event is the unrivalled chance for networking that it offers. The School Food Show provides the place to catch up with your suppliers and discuss new products as well as source new ideas.
LACA partners attending the event include: Bidfood, BirdsEye, Brakes, Civica, CRB Cunninghams, Hobart UK, IRIS Education, Kraft Heinz, McCain Foods, Middleton Foods, ParentPay, Pasta King, Premier Foods, Quorn Professionals, Rational UK, SchoolGrid, TUCO, Upfield Professional, Winterhalter, Yeo Valley and Young's Foodservice.
Visitors will also be able to pick up their FREE copy of the brand-new LACA plant-based school food recipe book. Visit the LACA stand on P67 to collect yours. LACA have 1,000 printed copies to give away at the event- attending the event in person is the only way to get a hard copy for your kitchen.
Other features open to visitors to the School Food Show include:
LACA School Chef of the Year Final: Visitors will be able to watch the live final taking place at the Main Event with the winners being revealed at the LACA Awards for Excellence dinner on the evening of 7th July.
Finishing Touches: is a very popular feature of the exhibition, showcasing the skills of those working in the sector which are not usually seen in their daily jobs, there are new classes for 2022.
LACA Live: Cookery demonstrations sessions focusing on local and sustainable produce taking place in the Palace Suite.
Workshops: Sessions tailored for both kitchen managers and service directors and managers will offer practical advice and share best practice case studies.
If you would like to listen to the speakers such as the Laperouse Parents, Tom Heap and Jason Bevan you will need to sign up to the LACA Forum package.