12th Jul 2022 - 05:00
Image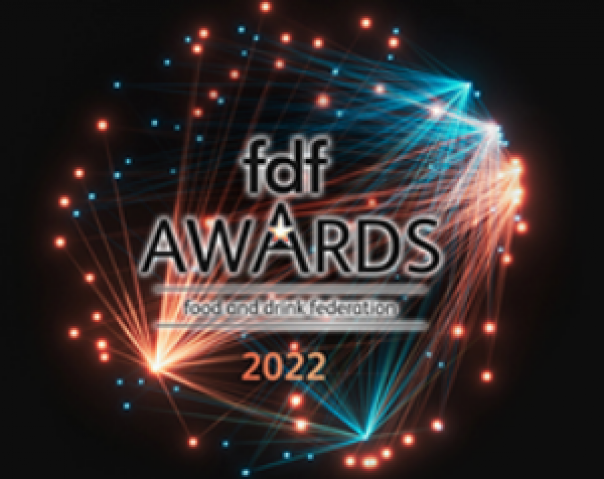 Abstract
The Food and Drink Federation (FDF) has announced the nominees for their 2022 awards, which celebrate exceptional talent, excellence and innovation in the food and drink industry.
Hosted by celebrity restaurant critic Jay Rayner, the winners will be announced on Thursday 15 September 2022 at The Royal Lancaster Hotel in London.
Karen Betts, chief executive of the FDF, said: "This year's awards bring together over 200 nominees across 19 categories, showcasing the very best of our industry. The judges had an invidious task in choosing winners from an extremely strong field – from companies driving new sustainability initiatives to championing employee wellbeing, as well as embracing new technologies and supporting cutting-edge skills development in their teams. 
"The food and drink sector is based within communities right across the UK's nations and regions, and these awards really demonstrate how our great companies continue to bring great products to consumers in challenging times. Good luck to all the brilliant nominees." 
Shortlisted finalists include:
Apprentice of the Year - sponsored by Tork
Caitlin Jones - Co-op Food
Daisy Abson - Coca-Cola Europacific Partners
Finley Pryde - Unilever UK & Ireland
Lorena Martin Olivera – apetito
Richard Laursen - Unilever UK & Ireland
Sophie Clifford - Mondelēz International
Brand Launch of the Year - sponsored by International Food & Drink Event (IFE)
Bemuse - Sparkling low-alcohol mead
Calbee Group UK Limited - Harvest Snaps plant-based snacks
Mars Food - Ben's Original™ Evolution
Mindful Mixology
Princes - Plot9
Walkers - Walkers MAX x KFC
Business Resilience - sponsored by KPMG
92 Degrees
British Corner Shop
Fresh Pastures & SMUK
Fudge Kitchen
Simply Doughnuts Limited
Teesdale Cheesemakers Limited
Campaign of the Year
Birds Eye - Proud to Power Team GB
KP Snacks - Everyone In (KP Snacks & The Hundred Partnership)
Nestlé Confectionery – KITKAT X HEADSPACE: Augmented Reality Break Experience
Walkers - #crispIN or #crispOUT
Walkers - Walkers MAX x KFC – "It Makes Perfect Sense"
Weetabix Food Company - Any Which Way A Bix
Community Partner – sponsored by The British Standards Institution (BSI)
Clearly Drinks – Giving support and opportunities to those with additional needs in the local community
Community Shop - Building Stronger Individuals and More Confident Communities
Find me the Leads Ltd - To my front door UK/Newark: Championing Independent Food & Drink in Newark on Trent
FoodCycle - the return to Community Meals
NEMI Teas
The Bread and Butter Thing (TBBT)
Diet and Health
Brusco Food Group - Effective Sodium Reduction: Smart Salt®
Calbee Group UK Limited - Harvest Snaps plant-based snacks
Goodfella's Pizza - Non-HFSS Pizza Portfolio
innocent drinks
Nestlé UK & Ireland - Garden Gourmet UK. Health focussed plant-based range
The Basic Ingredients Ltd - Emma Basic Japanese Style Curry
Digital Transformation - sponsored by KPMG
Compass Group UK&I
Foods Connected and Hilton Food Group
National Skills Academy for Food & Drink
Odhealth
Physical2Digital
VeriPro
Education Initiative
Britvic plc - Britvic's supported internships
Food Matters Live - The Career Conversations series, part of the Food Matters Live podcast channel
National Skills Academy for Food & Drink - Tasty Careers
Nestlé UK & Ireland - Virtual School Trip
The Nutrition Society - The Nutrition Society Training Academy (NSTA)
Wiltshire Farm Foods - Dysphagia Awareness Training with HCPs of the future
Emerging Business
Blackthorn Salt
Cornish Flapjack Shack
Heura Foods
Odhealth
Sessions
Tasty Mates
Environmental Leadership - sponsored by Powerstar
ABP UK – Gamechanger
apetito Ltd - Leading the Way with Net Zero Carbon Strategy
DELI LITES Ireland Ltd. - To Net Zero and Beyond!
Eurest - Combatting and Leading Change on Food Waste
FareShare - FareShare's Surplus with Purpose scheme
Molson Coors Beverage Company - Molson Coors' Carbon Reduction project
Exporter of the Year - sponsored by 4C
Belvoir Farm Drinks Ltd
British Corner Shop
Nairn's
Nasco UK Ltd
Ramsden International
Symington's Ltd
Food and Drink Engineer of the Year - sponsored by Sheffield Hallam University
Dean Foots - Britvic Soft Drinks
Graeme Strike - Premier Foods
Ian Marsh - Musk Process Services
James Warby - British Sugar
Laetitia Rynhoud - Jordans Dorset Ryvita
Yianni Alissandratos - Britvic plc
Food and Drink Technologist  / Scientist of the Year - sponsored by Institute of Food Science and Technology (IFST)
Beth Highfield - Britvic plc
Charlotte Vodden - Birds Eye
David Lloyd – Huel
Holly Cuthill - Britvic plc
Ruth Kelly - Goodfella's (Nomad Foods)
Yogini Lad – Princes
HR Initiative - sponsored by KPMG
Britvic plc - Working Well: Britvic's global hybrid working programme
Coca-Cola Europacific Partners (CCEP) - 'JustBe' from Coca-Cola Europacific Partners GB
Mars Food - Food Switch off For Dinner 
Moy Park Ltd - Moy Park's Development Academies
PepsiCo UK - Frontline Home Grown Accelerated Development Programme
Proper Cornish Ltd - Health and Wellbeing Initiative
Manufacturing Initiative - sponsored by Redzone
British Sugar - Factory of the Future
Clearly Drinks Ltd - New canning line
EBS Food Systems - Pigs in Blankets Pick & Place Robot Cell
Koolmill - NextGEN Rice Milling
Radnor Hills Mineral Water Company Ltd. - Pressure Less Pack Conveyer System
Weetabix - Compliance Improvement Initiative
Product Innovation - sponsored by Clarke Energy
apetito & Wiltshire Farm Foods - Finger Foods Bites: the future of Dementia-friendly dining
Meatless Farm - Plant-Based Chicken Breast
Premier Foods - Saxa Salt Sprays: changing the way we use and think about salt
Simply Doughnuts Limited - Development of fresh, long shelf-life doughnuts for retailers and wholesalers
Sutherlands of Portsoy - Coffee Smoked
THIS™ - Fat 2.0
Registered Dietitian / Nutritionist of the Year
Eretia O'Kennedy Coleske - Starbucks Coffee Company (UK)
Kelly Fortune - apetito & Wiltshire Farm Foods
Rebecca Deeley -Tillery Valley Foods
Rebecca Williams – Huel
Rees Bramwell – Eurest
Rising Star - sponsored by PepsiCo UK
Amy Day - Premier Foods
Declan Henderson – apetito
Oliver Havers - Pilgrim's UK
Rhian Smith – Princes
Sharlene Harrison - Müller UK & Ireland
Sophie Edwards - Mondelēz International
Sustainable Packaging Initiative - sponsored by Water Plus
apetito Ltd - Boomerang: a first for large-scale closed loop recycling
Ellers Farm Distillery - Dutch Barn Orchard Vodka - Amber Bottle Project
Kingsmill - Bread bags recycled content trial
Laithwaites Wine - Organic w/o Frappato in 100% post-consumer recycled 'wild' glass bottle
Nestlé UK & Ireland - SMARTIES transition from plastic to paper packaging
PepsiCo UK&I - Multi-pack Crisps Direct to carton
Sutherlands of Portsoy – QuadFresH
If you would like to attend the event, you can purchase tickets here.