13th Dec 2021 - 09:02
Image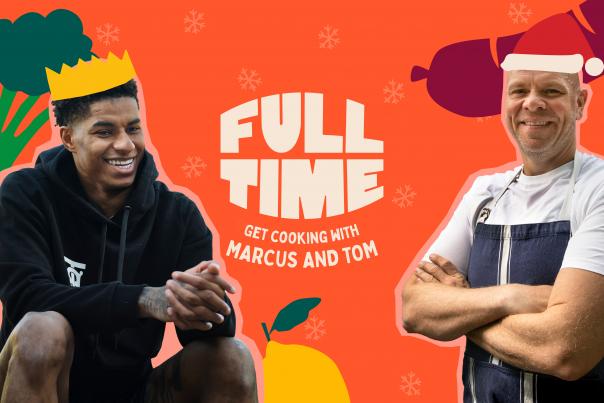 Abstract
Marcus Rashford MBE and chef Tom Kerridge have stepped up their Full Time Meals campaign to help vulnerable families access a Christmas meal.
Full Time Meals believes that every child deserves a Christmas Dinner and according to the Food Foundation 2.3 million children went to bed hungry in the past month.
Rashford said: "After all they have been through over the last 18-months, the least children deserve is a hot Christmas dinner this year. Christmas has a great ability to bring family together and I want as many children as possible to wake up on Christmas morning happy and without the stress of wondering where their next meal is coming from.
"We relied on the local food bank for our Christmas dinner. I want families in communities like mine to look forward to creating something special in the kitchen together and making memories. Tom's done a fantastic job of pulling two great recipes together and I'm looking forward to seeing how people get on."
The Christmas Day recipe includes turkey roll with stuffing and tray bake veggies and a Boxing Day potato and carrot hash with fried eggs using any leftovers. The two meals come in at less than £10 if families use their Healthy Start voucher.
The Healthy Start scheme has seen an increase in uptake from 47% of eligible people in September 2020 to 60% a year later due in part to the Full Time Meals campaign and the work of the Child Food Poverty Taskforce.
The duo have released a cook-along video on the Full Time Meals Instagram to explain step-by-step what families need to do to cook their Christmas Dinner.
Kerridge added: "Christmas can be such a hard time for many families, Marcus and I wanted to create something that might help bring a little bit of cheer to those who are finding it difficult. So, I hope the recipes we have created are useful and that they will bring awareness of the Healthy Start Voucher many families are entitled to.
"I want to see people cooking together over Christmas and if you are lucky enough not to have experienced hunger as a child, then please dig deep this Christmas and support FareShare with whatever you can give, it will change lives."
Full Time Meals is supporting FareShare, the UK's largest charity network tackling food poverty and reducing food waste in the UK, by urging people to donate £10, the cost of this family Christmas meal, to fight hunger.
Lindsay Boswell, chief executive of FareShare, commented: "We are humbled to be working alongside Marcus and Tom to support the Full Time Meals campaign and distribute the fantastic, affordable recipes that Tom has created to the charities who help over a million people across the UK each year.
"Any contribution that people can make to support FareShare to help vulnerable communities this winter is going to make a huge difference to people's lives."