10th Dec 2021 - 06:00
Image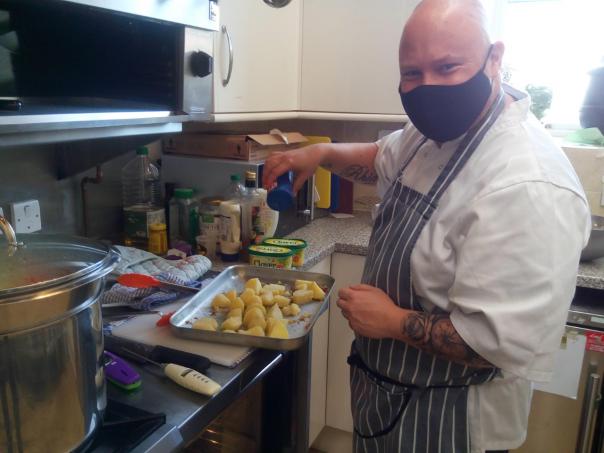 Abstract
Chef and hospitality manager at Harrogate Neighbours Stephen Wilkins has been volunteering in the kitchen at the Resurrected Bites Café as part of a long-term relationship between the two non-for-profit organisations.
Resurrected Bites was set up in 2018 to tackle food waste and food poverty in Harrogate and Knaresborough. Due to the pandemic, the cafes had to close, but in Autumn 2021 they reopened providing affordable, nutritious home-cooked meals for families and individuals to enjoy on a 'pay-as-you-feel' basis.
Wilkins took on the role of head chef for the day in the kitchen to create food for over 70 customers. He said: "It's great to be able to give something back to such a worthwhile organisation. I loved the challenge of preparing and cooking meals with such a tight turnaround. 
"We are a great community which is stronger together. Supporting each other, particularly in tough times is so important and we're pleased we're in a position to help."
All the ingredients were donated on the morning from local supermarkets and meals on the menu included, slow cooked lemon and thyme chicken with roast potatoes, beef lasagne and a vegan alternative, followed by strawberry cheesecake and assorted cakes.