18th Nov 2020 - 08:50
Image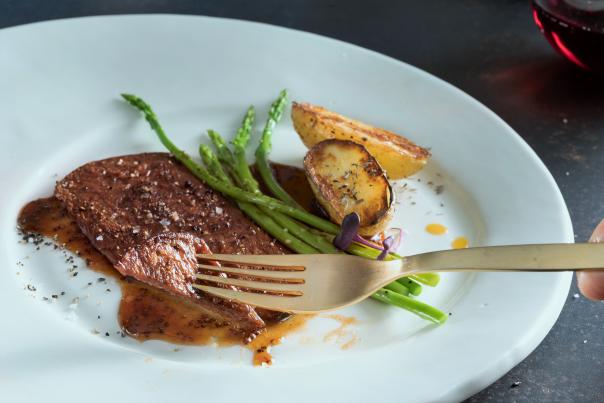 Abstract
Aleph Farms is unveiling the prototype of its first commercial cultivated steak product at the Asia-Pacific Agri-Food Innovation Summit on Friday (November 20th) in Singapore.
It already begun construction its BioFarm in Israel as it heads towards the transfer of its commercial product – thin-cut beef steaks – into proprietary platform suitable for mass cultivation.
The steaks are grown directly from cells of a living cow that have not been genetically modified (non-GMO), with the launch of the commercial product set for the end of 2022.
"One of the big challenges of cultivated meat is the ability to produce large quantities efficiently at a cost that can compete with conventional meat industry pricing, without compromising on quality," says Didier Toubia, co-founder and chief executive of Aleph Farms.
"We have developed five technological building blocks unique to Aleph Farms that are put into a large-scale production process, all patented by the company."
He said that their production technique 'effectively mirrors the natural process of tissue regeneration that occur in the animal's body, but outside of it and under controlled conditions'.
"The process is designed to use a fraction of the resources required for raising an entire animal for meat, and without antibiotics."
He said the structure of its product 'embodies the familiar texture, taste, cooking behavior, as well nutritional qualities of conventional slaughter-based steaks'.
Amir Ilan, the company's resident chef says: "Aleph Farms is establishing a new category of meat, imbued with its own culture and a new world of meaty experiences.
"It's not enough to just make a protein that will fill the nutritional gap; we need to capture the fullness of the meat-eating experience.
"Meat can be cultivated from cells isolated from different animal breeds, have different cuts, and it elicits different emotions. We see Aleph Farms as crafters of experiences," he says.
Aleph Farms was co-founded with The Kitchen Hub of the Strauss Group and with Professor Shulamit Levenberg of the Technion - Israel Institute of Technology. In May 2019 it raised US$12m of funding to invest in development.