31st May 2022 - 07:00
Image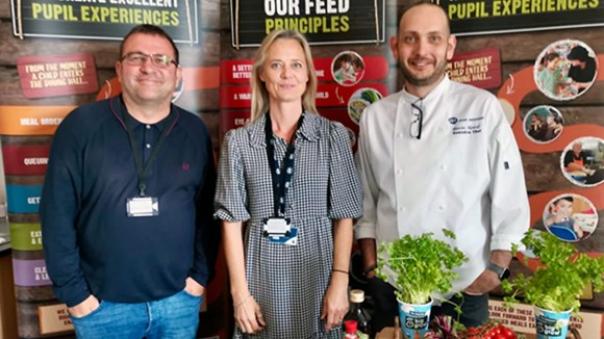 Abstract
ISS Education celebrated Public Sector Catering Magazine's 2022 Plant-Based Week (9-13 May) by engaging 4,000 pupils in schools nationwide with gardening and plant-based food activities.
Innocent Drinks sponsored the ISS event supporting with classroom gardening kits, seed packs and gardening themed prizes. Activities took place between 9-20 May with pupils at participating schools having the opportunity to try plant-based dishes during lunchtime.
Over 2,000 pupils joined live virtual foodie sessions hosted by ISS's chefs and nutritionists to watch plant-based cooking demonstrations. Over 1,800 children joined gardening expert Chris Collins for online practical sessions where they discussed growing tips.
Alistair Dale, managing director of education at ISS UK & Ireland, commented: "Every year, we love running our Green Fingers campaign because it's clear to see the positive impact this has on pupils across the country. During the pandemic we held the celebration online, which proved extremely successful.
"So, this year we were able to do a blend of both online and in-school engagement, which allowed us to have an even bigger impact. We were delighted with the uptake of the sessions which were attended by more pupils than ever before – it was fantastic to hear the great feedback from those children and teachers who attended."
ISS are proud sponsors of Love British Food who host British Food Fortnight every year to highlight the importance of growing and buying British food. As well as teaching children about the nutritional advantages of eating healthy fruits and vegetables, Green Fingers encourages children to look out for seasonal UK produce.
Lorraine Fraser-Leonard, vice principle at Outwood Primary Academy in Kirkhamgate, added: "The children at Outwood Primary Academy thoroughly enjoyed ISS's Green Fingers Big – Grow event. Chris Collins engaged the children by talking about how to create interesting garden spaces and worked with children to plant seeds whilst teaching them about what plants need to grow.
"The pupils also attended a really exciting and interesting live session where the children enjoyed watching the chef create a super tasty salad, whilst learning about the nutritional benefits of different fruits and vegetables."