13th Jan 2022 - 08:57
Image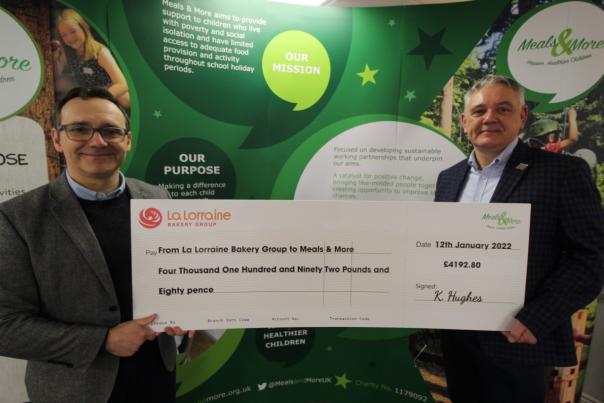 Abstract
La Lorraine Bakery Group (LLBG) has pledged €5,000 (£4,192) to Meals & More, a charity that supports children who have limited access to adequate food provision and activity throughout the school holiday periods.
LLBG launched a global charity fund of €50,000 as part of the company's new Caring Together project, an internal initiative to better support the fundamental right for people to access basic food across the globe.
The fund is driven by a team effort from the global workforce, who set a target last year of one million kilometres in the LLBG Fit Together programme, an employee step challenge. LLBG decided to donate the maximum amount of €50,000, equally divided over ten projects across the world.
Meals & More, which was founded in 2015, has provided grants that have helped deliver over 1.2 million meals and supports over 265 holiday clubs across the UK. This donation will be used to fund approximately 4,000 meals for children from areas of social deprivation across the UK in the school holidays.
Peter McGrath, operations director at Meals & More, commented: "A huge thank you to everyone at La Lorraine Bakery Group for helping us provide healthy meals to hungry children in the school holidays. We share the belief that quality food improves lives for the next generation.
"In addition to ensuring the children are eating healthy food, the clubs we support do a great job of giving the children a fun day out of the house undertaking activity with other children. It reduces social isolation, screen time and the learning lag when they return to school. In a nutshell, good food and activity aids growth and learning."