17th Mar 2021 - 08:43
Image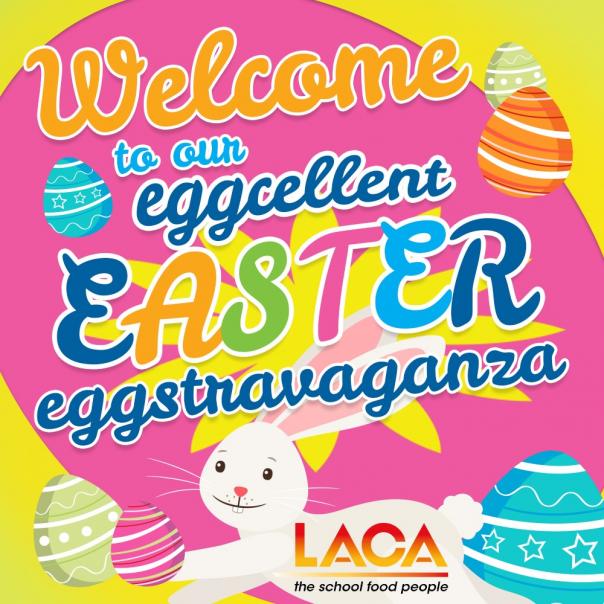 Abstract
LACA, the school food people, has announced plans to introduce more theme days to encourage the uptake of hot meals at lunchtime.
The Easter Eggstravaganza has now been launched, you will find posters, letters, stickers plus everything you need to run a successful promotion at: https://thegreatschoollunch.co.uk/resources/lacas-themed-resources/. Download for free, personalise and print to suit your service.
The theme days aim to facilitate the return of hot lunches as soon as everyone feels it safe to do so. The next LACA webinar, on 24 March, features Minister for Children Vicky Ford where she will discuss LACA membership and answer questions posed by LACA. If you are interested in the webinar, visit here.  
Calendar of events:
March: Marching Back to school lunches
A promotion to encourage children back to hot lunches. Why not run a week of favourite dishes to entice children back into the dining room.
March/April: Easter Eggstravaganza
A fun promotion, easily recognisable and one that can be aligned with any events going on in the classroom.
Encouraging children to get active, caterers providing menus with an emphasis on the link between food and the energy it provides to walk to and from school, and general exercise. Stickers and activities on road safety can be used during lunchtime or by schools during lesson times.
June/July: Seaside Special's
To encourage uptake at a time when some children might want to choose a packed lunch as the weather warms up, a seaside special menu is known to be popular with children of all ages. The fun activity sheet can be sent home to complete over the holidays or run a competition during school times.
Sept: Back to school week
A week of all-time favourite classic school lunches will encourage children back into the dining room as the new school year starts. The activity encourages children to vote for their favourite school meals, this can help with future menu planning.
We know curry is a popular dishes on the school menu, indeed it was voted the most popular school lunch in a poll conducted as part of national School Meals Week 2017. Why not try a selection all week, meat, veggie, vegan option to encourage children to try new tastes and flavours. Recipes can be made available to send home to parents.
Nov: Bonfire Night/National School Meals Week
Two on offer this month. Bonfire night favourites, twice baked jacket potatoes and toffee apple sponge always a favourite with children at the start of the month. National School Meals Week (NSMW) nearing the middle of the month, theme to be announced soon. NSMW is a chance to promote everything great about school lunches.