30th Jun 2021 - 05:00
Image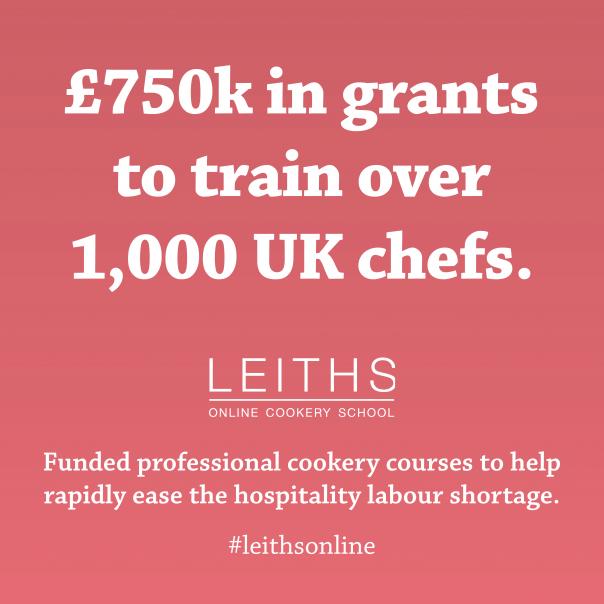 Abstract
The Leiths Hospitality Recovery Grant aims to help the UK hospitality sector by bridging the skills gap in professional kitchens to ease the recruitment crisis.
The £750,000 grant will provide 100 free places and a further 1,000 part-funded places on Leiths online courses. The grant is aimed at both restaurants and individuals who are looking to increase their skills.
Prue Leith said: "The restaurant sector is again under fire, hard on the heels of the pandemic is the crippling skills shortage seeing many restaurants unable to open seven days a week.
"Leiths School of Food and Wine recovery grant, offering immediate online training to people outside of the sector and those within currently in unskilled roles, is set to make a difference and I am very proud the school I set up can respond at this time of this skills crisis."
The Leiths online training assists on two levels, those who are within the industry at a low/ unskilled level and those looking to embark on a career and have absolutely no experience at all. The training can be done full-time or part time, and can take as little as six weeks to complete. Each student is allocated a Leiths teacher as a mentor to guide and to learn from, receiving feedback all the way through.
Kate Nicholls, chief executive of UKHospitality, added: "Hospitality is in desperate need of a skills boost, particularly in kitchen roles, so we fully support and welcome this programme.
"UKHospitality is committed to collaborative solutions to the sector's recruitment challenges, as demonstrated by our 12-point plan for employment.
"Leiths have taken great initiative in launching this programme, which will help upskill hundreds of chefs while simultaneously highlighting and addressing those challenges."
Businesses and individuals, via their employer can apply as of today, by visiting: www.leithsonline.com/hospitality.