21st Jul 2021 - 06:00
Image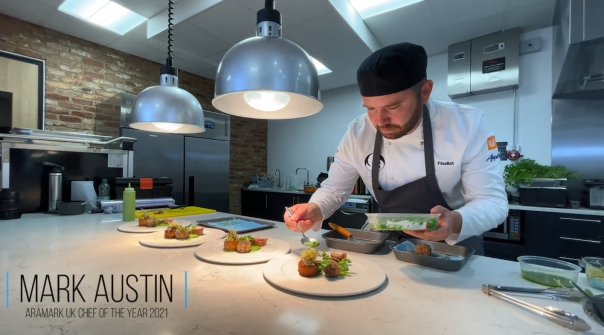 Abstract
Mark Austin has been named the winner of Aramark's UK Chef of the Year 2021 following live final against five other top chefs from the group.
The competition final took place in the new development kitchen in Aramark UK's headquarters in Farnborough, where each chef had 90 minutes to cook two courses, four plates each, with ingredients chosen from a 'mystery box'.
Austin, who is the executive chef at Northwood Military Headquarters, was awarded the title after he impressed the distinguished panel of judges with his main dish of rabbit and pancetta boudin, offal bon bon, pea and nettle puree with leak ash emulsion.
For dessert, he served goats curd and yogurt cream, raspberry and beetroot gel, pickled beetroot and salted cocoa biscuit.
Second place was awarded to Greg Hewitt who is the executive chef at Robert Gordon University in Aberdeen. He served roast Deeside venison loin, garlic potatoes, heritage beetroot, pickled carrots, and whipped goat's curd. His second dish consisted of rhubarb souffle, orange shortbread crumb, cinnamon cream, and rhubarb tea.
The remaining four finalists, Dan Trace, Dean Jones, Chris Swain and Cara Humphrey, the youngest finalist, also impressed the judges with their creative dishes.
Austin said afterwards: "I feel very honoured to have won the prestigious UK Chef of the Year title. Well done to all the other finalists and a very big thank you to Paul Bloxham and the team at head office for coordinating such a well organised and streamlined competition.
"After such a tough year for the hospitality industry, it's great to get back in the kitchen and back to competitions again."
Paul Bloxham, culinary director for Aramark UK, added: "At the heart of Aramark is our great people and fantastic food, and that's culminated in the Chef of the Year competition.
"This event has been a showcase of the extraordinary culinary talent that we have in our organisation. I'd like to congratulate Mark on the win, and all of the finalists who created beautiful and delicious dishes."
The competition is open to all of Aramark's chefs throughout the UK and it was judged this year by Aramark ambassadors Gary Maclean and Stu Deeley, previous winners of 'Masterchef: The Professionals', and Paul Gayler. The judging panel was completed by Helen Milligan-Smith, UK Managing Director, Fran Collison, UK Safety Director, and Mark Webber, Cclinary director for Aramark Defence Services.
It attracted over 50 entries from around the business. Due to the virtual nature of this year's competition, finalists were chosen based off a two-minute video where they told the judges about themselves, their passions, and their recipes.
Following his win, Mark will now go on to compete in Aramark's European Chef's Cup in April 2022. The Aramark UK Chef of the Year event was supported by Unilever Food Solutions.