30th Jun 2021 - 06:00
Image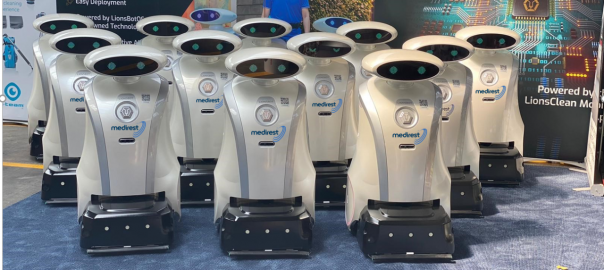 Abstract
Medirest, the healthcare division of Compass Group UK & Ireland, has introduced 12 new cleaning robots to support several NHS hospitals across the UK.
Medirest has partnered with cleaning specialist Killis to develop the 'innovative technology' which is suited to the large open areas in hospitals. The robots enhance repetitive cleaning procedures in open spaces such as corridors, freeing up other staff to focus on touch points and 'cross infection hot spots'.
The technology incorporates a scrubber dryer system, which typically uses 70% less water and fewer chemicals than traditional cleaning methods helping Compass to achieve their sustainability targets.
Steven Cenci, managing director, Compass Group UK & Ireland – Healthcare, said: "The pandemic has brought recognition for the amazing work our people do in helping to keep hospitals across the country clean. The introduction of the cleaning robots will further support this work, and we're looking forward to introducing more with our partners over the coming months." 
The first robot has been named after Medirest colleague Hanzel Gardener who passed away during the Covid-19 pandemic.