27th Sep 2021 - 10:44
Image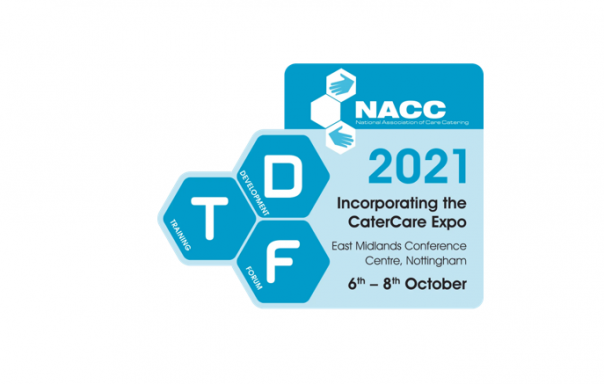 Abstract
The National Association of Care Catering (NACC) has announced the keynote speakers, training workshops and cookery demonstrations for the Training & Development Forum, which will take place at the East Midlands Conference Centre from 6-8 October 2021.
The two day event aims to 'inspire' attendees improve their care provision. The NACC believes catering managers, dietitians, NHS staff, healthcare company executives and any supplier to the care catering sector should attend the event.
Sue Cawthray, national chair of the NACC, said: "Having carefully designed a programme that would help you navigate the varied challenges of catering for the elderly, vulnerable and young in care environments, particularly in this current climate we agreed with our speakers to deliver this original content in 2021, but with the additional learnings from another year.
"Since the beginning of the pandemic, it has been reported that nearly five million adults are experiencing food insecurity and most people who are malnourished live at home, and in their community, and raising awareness of the risk of malnutrition among these households and the people who care for them is vitally important now and in the coming months.
"As always, the NACC TDF will offer a forum that gives everyone the opportunity to come together to share best practice, new ideas and perspectives to take back to their workplace, and to engage with like-minded colleagues."
The keynote speakers include inspirational conference speaker Jonathan Cunningham MBE, managing director of Autumna Debbie Harris and NACC patron Baroness Barker.
Cunningham will take attendees 'on an inspirational and emotional journey' demonstrating the importance of leadership in any organisation while Harris will explore the need for the equivalent of the Good Food Guide for the care home sector.
One of the 'thought-provoking' workshops available will be 'Food is Medicine', which will be led by chair of the NHS review Phil Shelley and senior matron at Somerset NHS Foundation Trust Kerry Trunks.
There will also be cookery demonstrations from business development chef at Essential Cuisine Robin Dudley and Alex Hall executive chef at Unilever Food Solutions.
The supplier exhibition, which runs alongside the event, enables attendees to sample and taste test products from the range of exhibitors. There are also one-to-one supplier meetings that are beneficial to new suppliers.
If you are interested in the NACC Training & Development Forum, visit here.