3rd Aug 2022 - 06:00
Image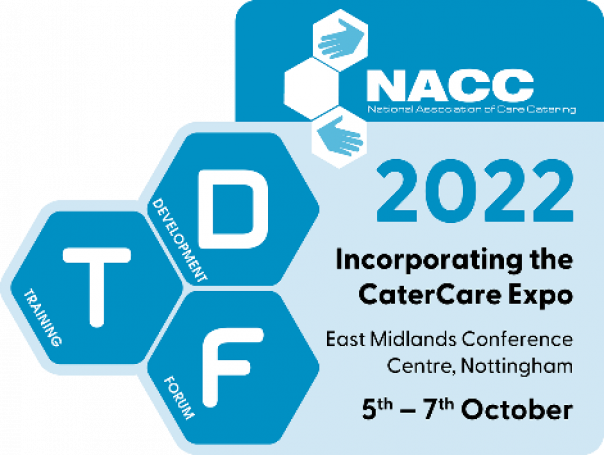 Abstract
The National Association of Care Catering (NACC) is returning to the East Midlands Conference Centre in Nottingham from 5-7 October for the Training & Development Forum 2022.
The 'unique' training event has been designed to give care caterers practical techniques to support and develop their care establishments. Attendees will be 'inspired, informed, updated and connected' with two days of keynote speakers, training workshops, live cookery demonstrations, meet-the-buyer meetings, supplier exhibition and networking.
Relevant topics to be discussed include the social care policy landscape, reducing food waste and costs, mental health, allergens and labelling, recruitment and retention, social media as well as menu enhancement. Baroness Barker, patron of the NACC, will update members on the good work she is championing on behalf of the association to facilitate change.
The NACC Training & Development Forum will also bring the NACC Care Chef of the Year competition and the NACC Awards to their grand finales, as the winners for both prestigious events are revealed and celebrated.
Sue Cawthray, national chair of the NACC, said: "I am very much looking forward to returning to Nottingham in October to meet with fellow care catering professionals and suppliers and support each other in what continues to be very challenging times. The event is an opportunity for people to come together, share knowledge and learning, and benefit from the experiences of like-minded people. 
"I urge everyone working in or associated with care catering to come along and learn from our excellent speakers, presenters and culinary experts, and of course, from each other, whilst also having some fun. I truly believe that we are stronger together and this collaboration will give us the tools and energy to continue to overcome ongoing challenges."
Live Cookery Demonstrations:
Essential Dysphagia Comfort Food: Robin Dudley, business development chef and Gary Kilminster, business development manager, Essential Cuisine
Reducing Food Waste and Food Costs: Jamie Clews, key account manager, Robot Coupe
Winning Recipes Behind Care Chef of the Year 2021: Aaron Watson, Care Chef of the Year 2021, Primrose Bank Care Home and Alex Hall, executive chef UK and Ireland, Unilever
Premier Foods – Fortification in Food: Louise Wagstaffe, Premier Foods, culinary advisor
For further information and to book a place at the NACC Training & Development Forum 2022 visit here.