5th Feb 2021 - 05:00
Image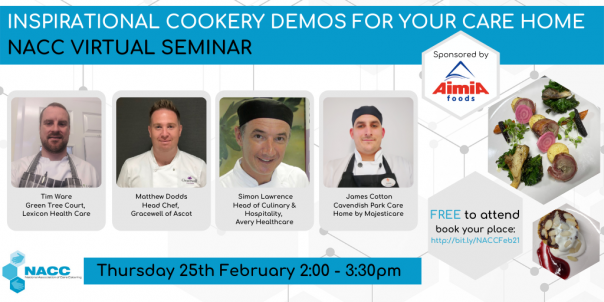 Abstract
The National Association of Care Catering (NACC) are hosting a virtual cooking demonstration, featuring care home chefs, on Thursday 25 February from 2-3:30pm.
The webinar, sponsored by Aimia Foods, is free to attend and aims to 'inspire' other care chefs to create similar dishes for their residents.
NACC Care Chef of the Year 2020 Tim Ware from Green Tree Court will replicate his main of butter roast chicken, Bombay potatoes, spinach, and shallot bhajis.
Mathew Dodds, head chef at Gracewell of Ascot, will be cooking his 'Post-war Rational Meal' that won 'Highly Commended Main' at the NACC Care Chef of the Year awards. The Post-war Ration Meal includes a poached saddle of rabbit, roasted shallots, baby carrots, crispy kale, fondant potato and a tarragon cream sauce.
James Cotton of Cavendish Park Care Home will replicate his 'Highly Commended Dessert' of black forest bakewell tart.
If you are interested in attending the virtual demonstration, sign up here.