20th Nov 2020 - 06:00
Image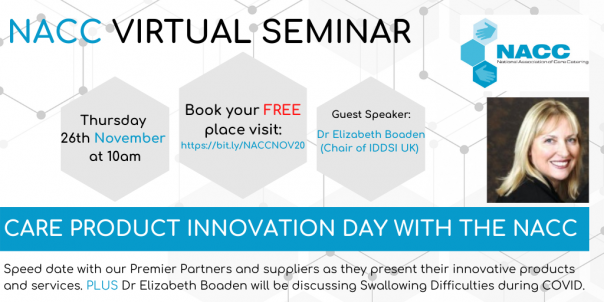 Abstract
The National Association of Care Catering (NACC) are hosting a free to attend virtual seminar on 26 November where suppliers and partners will present their latest products in 180 seconds.
Twenty NACC partners and suppliers will give a three minute overview of their product and services that can help people through the Covid-19 pandemic.
The bite-sized presentations will give tips and advice to those working in the care sectors over the coming months. The suppliers include Bidfood, Meiko, Premier Foods, Rational, Hobart, Unilever, Apetito and Young's Foodservice.
Dr Elizabeth Boaden, chair of IDDSI UK is the keynote speaker and she will discuss SLT Solutions and swallowing difficulties following Covid-19.
Sue Cawthray, national chair of the NACC, said: "As our members and the wider care catering sector continue to face unprecedented challenges, we're committed to helping everyone navigate the next phase of the pandemic by giving them access to the right information, connections and expert support through our virtual seminars."
The virtual seminars are open to NACC members and non-members. To book your place, visit: https://www.thenacc.co.uk/events/national.