24th Jun 2022 - 06:00
Image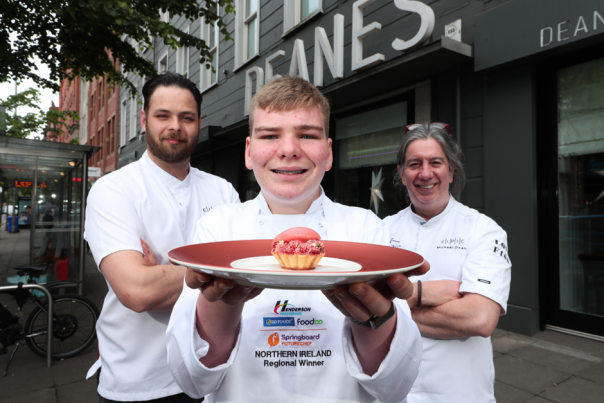 Abstract
An up-and-coming chef from Belfast received the 'opportunity of a lifetime' last week when he was invited to experience a Michelin Star kitchen at Deanes EIPIC.
Michael Thompson was personally invited by chef Michael Deane having impressed him during a competition to find Northern Ireland's most promising culinary talents, which took place earlier this year. The competition saw Michael crowned the Northern Ireland winner of Springboard's FutureChef 2022 after wowing judges including Deane and Jean-Christophe Novelli with his 'creativity, skill, and flair'.
Thompson said: "To stand and observe how Deanes EIPIC Michelin Star restaurant runs has been amazing. Having just received my national insurance number, I can now seek opportunities - and there are already a few in the pipeline, which is fantastic! I will continue to aspire to master some of the skills I have seen in the kitchens with Michael and Alex, as well as my mentor, John Clark (at AC Mariott, Novelli City Quays)."
Over the course of 6 hours Michael received valuable hands-on experience teaching him about running a busy kitchen and the skills, care, and attention needed in food preparation.
Deane added: "It was a privilege to welcome Michael to EIPIC and give him the chance to experience a busy, hard-working kitchen. His talent, creativity, and breadth of knowledge stood out during Springboard's FutureChef competition, and it's great to see that this has only grown since.
"I'm confident Michael will achieve fantastic things in the industry, and I look forward to following his journey and seeing what he does next. We are more than happy to continue supporting Michael on his journey and would love him to join the team at Deanes."
Springboard's FutureChef is the charity's flagship educational programme which sits alongside a wide range of employability programmes designed for young people to help build their employability and soft skills while giving them the confidence to kickstart a career in hospitality.
Since the FutureChef competition began in 1999, almost 200,000 young people aged 12-16 have taken part and learned how to cook, developing their skills and knowledge, with many going on to establish themselves within the industry.
Chris Gamm, chief executive of Springboard, commented: "Inspiring the next generation of hospitality stars is vital for the sector recovery post-Covid. We are still unstaffed after the employment crisis, and our FutureChef competition aims to entice young people into the sector and explore the endless possibilities available.
"More than ever, we need to keep culinary careers at the forefront of students' career choices, ensuring we have a steady stream of enthusiastic and talented young chefs entering the industry. Springboard's FutureChef is perfectly placed to do this by equipping young people with the basic skills and knowledge that they need to make a start."