18th Nov 2020 - 08:56
Image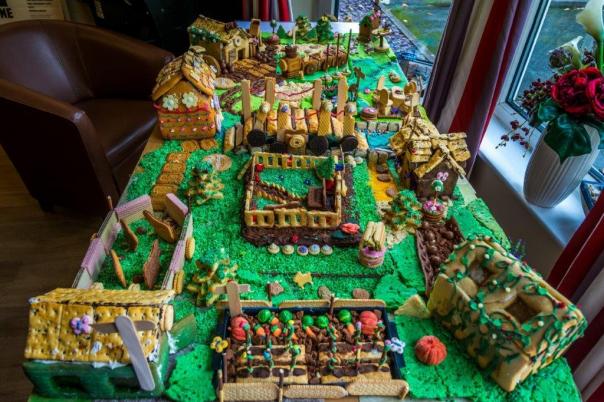 Abstract
Global snacking company Pladis has crowned Brandon House Care Home in Coventry as the winner of its McVitie's Tasties biscuit decorating competition in partnership with the National Activities Providers Association (NAPA).
The judges were impressed with the winning entry, which involved a biscuit garden with a church, pond and greenhouse. Residents and the care team at Brandon House Care Home won an afternoon tea package worth up to £1,000.
Sheryl Davis, Brandon House Care Home manager, said: "When we saw the competition, we jumped at the chance to get involved.  We had a discussion with our residents about our theme, which evoked all sorts of wonderful memories. It was clear the favourite theme was gardens and the outdoors. 
"Residents came up with interesting ideas where they reminisced of their childhood spent outdoors including the creation of a greenhouse of biscuits from Colin, as he used to spend time with his grandad growing vegetables; the creation of a biscuit garage from Ian, as he spent all of his life growing up with motorbikes and an idea from Gwen, to create a pond to showcase her love for fishing.
"We were absolutely delighted with how our biscuit garden turned out.  We like competitions at Brandon House, and we like biscuits even more!  All of our residents and colleagues are thrilled to have won and are looking forward to having an Alice in Wonderland style afternoon tea."
There were over 200 entries for the competition that asked care homes around the UK to get creative and make a 'biscuit masterpiece'.  
Scott Snell, vice president sales at Pladis UK & Ireland, added: "We've been overwhelmed by the amount of entries we've received.  The care and time both residents, activities coordinators and carers have put into the challenge has been inspiring, resulting in some wonderfully creative entries and provoking so many stories of happy memories from residents."
The McVitie's Tasties Biscuits Range "Tasty Biscuits at a tastie price" are available from Brakes at www.brake.co.uk.
Hilary Woodhead, executive director NAPA, commented: "This is such a lovely campaign that has engaged residents across the UK at a time when many have needed a pick me up.
"The entries received have been fantastic and we've thoroughly enjoyed reading each and every entry, and seeing all of the creatively decorated biscuits."