9th Aug 2021 - 05:00
Image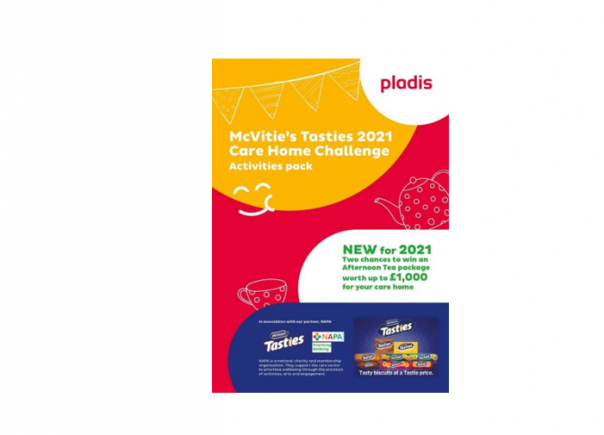 Abstract
To mark this year's Afternoon Tea Week (9-15 August) global snacking company Pladis and NAPA (the National Activity Providers Association) are asking UK care home residents to get creative to make the nation's best decorated biscuit.
In recognition of the foodservice heroes who dedicated themselves to serving care home meals over the last year, Pladis are also launching a new competition for care home cooks. The competition is searching for the nation's best care home dessert using McVitie's Tasties.
Both competitions run until the end of October with the winning care home receiving a £1,000 Afternoon tea session.
Scott Snell, vice president of sales UK & Ireland at Pladis, said: "This competition is about so much more than making our teatime favourites look fancy. It's about bringing a much-needed dash of fun and creativity to care homes across the UK.
"Last year, over 200 care homes took part and everyone loved it.  We saw some amazing entries that included a peacock's tail, a greenhouse and even Blackpool Tower! Who knows what we will see this year?
"New for 2021, we thought it was time to get care home cooks involved. They've done a sterling job over the last year, serving meals under incredibly challenging conditions. Hopefully our McVitie's Tasties dessert challenge will go some way towards recognising their dedication and creativity."
Care homes entering the nation's best decorated biscuit competition need to come up with a theme for their biscuits, get creative and then email photos of the resulting creations to mcvities@williammurray.co.uk.
Care home cooks need to send photos of their desserts alongside the recipe, cost per portion, nutritional details and five pieces of resident feedback.
Hilary Woodhead, executive director NAPA, added: "We had such great feedback and inspiring competition entries last year - It would have been a missed opportunity not to carry it through into 2021.
"It gave care home staff and residents a welcome lift during a difficult time and was a lovely opportunity to relive memories using biscuits and decorations. It was so much fun; a lot of last year's contenders are already chomping at the bi(scui)t to bag the Afternoon Tea this year!"