21st May 2020 - 07:46
Image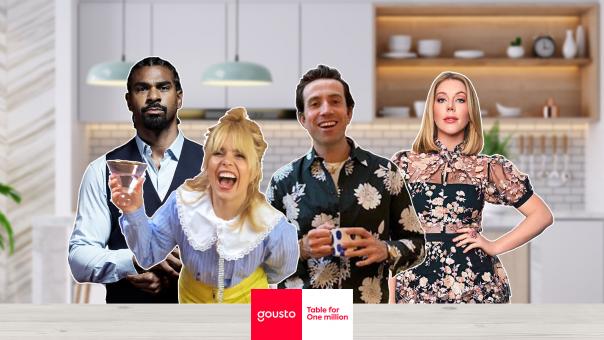 Abstract
Gousto, the recipe box company, has announced a bid to bring one million Brits together in the UK's biggest virtual dinner party on Friday, May 22nd at 8pm.
Hosted by Nick Grimshaw, with a lineup  of celebrity guests, Gousto's Table for 1 Million will bring the nation together in the spirit of community during the nationwide lockdown brought on by the coronavirus crisis.
The Table for 1 Million dinner party is available to everyone and free to attend. Those who book a seat at the UK's biggest virtual dinner table will be able to choose from a list of Gousto recipes to cook before the event and share the experience with others at the event.
Since the coronavirus crisis began, Gousto has placed its passion, brains and resources towards helping the community as part of its response effort. The company has been engaging with DEFRA (Department for Environment, Food and Rural Affairs) on a response effort for the vulnerable and has supported important charities such as homeless charity Shelter as well as donating the equivalent of 6,000 meals to the Trussell Trust foodbank network.
Last month, Gousto launched the Food Finder directory - a non-commercial service built by Gousto's in-house technology team in just ten days. The platform tells shoppers which small businesses are offering food delivery services in their area during lockdown. This comes as business owners are told it could be another two weeks before shops are able to start reopening.
Currently delivering over 4 million meals each month, Gousto's tech team has worked tirelessly to bolster capacity so the recipe box can serve even more UK households. The business is now set up to start gradually accepting new customer orders from this weekend.
Shaun Pearce, Gousto's Chief Technology Officer said: "For many of us, the lockdown has highlighted the importance of shared mealtimes. At Gousto, we want to ensure everyone has the opportunity to cook and enjoy dinner together with those they love, whether in person, if they live together, or virtually if they can't be together at this time.
Every single member of our team has been working hard to make life during the lockdown a little easier. I'm proud that we were able to develop the Food Finder app in record time and help local businesses stay afloat during these unprecedented times. Table for 1 million is a continuation of our efforts to spread joy and build stronger communities at this time. We're looking forward to creating great memories."
Guests will interact with the celebrity guests - Nick Grimshaw, Paloma Faith, Katherine Ryan and David Haye – and ask them questions via a live Q&A.
You can book your seat at tablefor1million.com