23rd Jul 2021 - 07:25
Image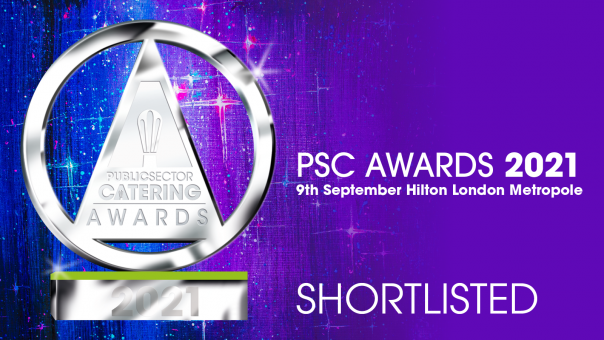 Abstract
The judging for this year's Public Sector Catering Awards has been completed, and the shortlisted entries in each category are being released over the course of this week.
Today (July 23rd) we publish the shortlisted nominations for the final five of the 17 awards – the Catering College Award, the Chef Award, the Contract Caterer Award, the Sustainability Award, and the Team of the Year Award.
These join the 12 award category shortlists already released this week.
Armed Services Award
CPO J Barnes - Royal Navy
SAC J Jones - Royal Air Force
SSgt M Wrangham - Army
Care Catering
Anwar Kajee - Country Court Care
Care UK Food and Hotel Services Team
Signature Dining
Sunrise of Sonning Catering Team - Sunrise Senior Living 
Catering College
Greg Cheeseman - Eastleigh College
Graham Taylor - Cambridge Regional College
Edinburgh College Professional Cookery & Hospitality Team 
Catering Manager of the Year
Robert Baines - Kirklees Council
Ivan Hopkins - Nottingham Trent University
Nicolette Millward - Restaurant Associates
Andrew Mussett - Care UK
Nigel Simmonds - IFG Innovate
Neil Tyson - HMPPS, HMP Wandsworth 
Chef of the Year
Paul Bloxham - Aramark UK
Sarah Copp - Caring Cooks of Jersey
Darren Passmore - Compass Group
Alex Sim - University of Bristol
Andy Wilcock - Impact Food Group 
Contract Caterer of the Year
Hertfordshire Independent Living Service
Juniper Ventures Limited
Restaurant Associates
Shire Services Catering
The Genuine Dining Co 
Education Catering 
Alan Cash - SENDAT
Joanne Davis - Ardingly College
Kellie Driver and The Catering Team, Stone St Mary's Primary School
Veronica Green - Tregolls School, an Academy
Juniper Ventures Limited
Woodlands Primary School Catering Team 
Health and Nutrition 
Steve Johnson - HMPPS, HMP Ranby
ASSIST FM Catering Team Members
Caterlink Ltd
Hertfordshire Independent Living Service
ISS Healthcare Patient Catering & Dietetic Team
NHS Ayrshire & Arran Catering Team 
Hospital Catering
Stewart McKenzie - NHS Greater Glasgow & Clyde
Tim Radcliffe - East Lancashire Hospitals NHS Trust
Catering Team at Golden Jubilee Hospital
GG&C Catering Strategy Team
University Hospitals Sussex NHS Foundation Trust 
Innovation
David Hill - HMPPS, HMP Buckley Hall
Simon McKinnon-Brahams - The Clink Restaurant at HMP Brixton
John Reynolds - HMPPS, HMP Haverigg
Brakes Instant Food Thickener
Country Court Care 
Marketing
Hayley Stafford - Lancashire County Council
ISS Education
Loughborough University Catering Team
Meals on Wheels Week 2020 - NACC
Thomas Franks Feeding Communities Team 
Special Contribution to Public Sector Catering
Anwar Kajee, Country Court Care
Mark Lewis - Hospitality Action
Keith Metson  - Aramark UK
Molly Shaher – PACE
NHS Supply Chain/Food 
Sustainability 
Chris McCammon -HMPPS, HMP Kirkham
Tony Mulgrew - Ravenscliffe High School
CATERed Limited
The University Caterers Organisation
Quorn Foods 
Team of the Year
BaxterStorey NatWest Team
Blackpool Council Catering Services
Craigavon Area Hospital Catering Team - Southern Health & Social Care Trust
Dragon's Heart Hospital Catering Team
Sodexo Defence Catering Team
Swanmore College Catering Team 
Training and Apprenticeship
Brian Campbell and Ross Ferguson - Golden Jubilee Hospital
John Loughton - Scran Academy SCIO
Mathew Shropshall - University College Birmingham
Apprenticeship & Early Careers Team - Compass Group UK and Ireland
Shine Programme - Restaurant Associates
The National Association of Care Catering 
University Catering
Annabel Hurst - Cardiff University
Manish Shah - King's College London
Matt Tebbit - University of Reading
Loughborough University Catering Team
University of Bristol Catering Team 
Unsung Hero
Stephen Betts - HMPPS, HMP North Sea Camp
Lee Jaszczuk - HMPPS, HMP Berwyn
Hannah Lees - University Hospitals of North Midlands
Patrick Marichal - Nottingham Trent University
The Bevy Meals on Wheels Volunteers
The Umbrella Cafe
The awards night is a live event taking place at the London Hilton Metropole in Edgware Road on September 9th. 
For more details and to book places visit: pscawards.co.uk