13th Apr 2023 - 07:00
Image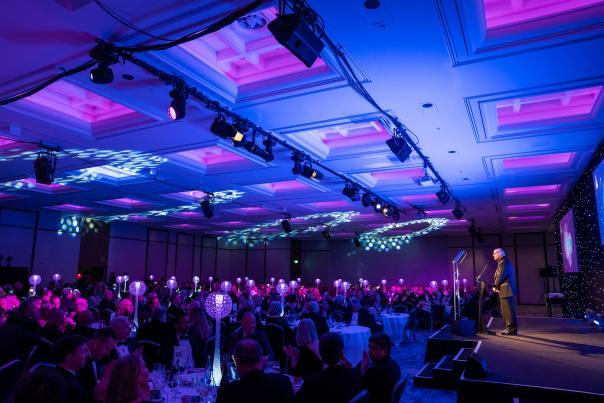 Abstract
The Public Sector Catering Awards, which are taking place tonight at the London Hilton Metropole, will be the 30th edition of the ceremony that seeks to celebrate the work of individuals and teams who have 'gone above and beyond' to provide excellence in catering.
Comedian, author, actor and broadcaster Dominic Holland, whose credits include Have I Got News for You, The News Quiz, The Royal Variety Performance and Never Mind the Buzzcocks, is the Public Sector Catering Awards host.
The Awards aim to highlight the great work of individuals and teams in schools, hospitals, the care sector, universities, catering colleges, prisons and the military.
On the night we will be raising money for hospitality charity Springboard as well as Hospitality Action. People who want to enter the raffle will need to bring cash with them and the overall grand prize is £500.
The 2023 Awards night menu includes:
Starter - Marinated Halibut, pickled cucumber, jalapeno, scallions, coriander, monkfish cheek fritter, paprika emulsion
Mains - Fillet of beef, curried butternut puree, spiced ox cheek pakura, sprouting broccoli, cumin jus
Dessert - Blueberry and fudge bread and butter pudding, blueberry fool, butterscotch sauce
Wines - M Chapoutier, Marius Vermentino (white); Vina Pomal Concenario Rioja Crianza, Bodegas Bilbainas (red)
A shortlist of nominated finalists has been unveiled for 17 of the 18 award categories with the Lifetime Achievement Award given out on the night itself, where over 600 industry colleagues will celebrate the winners.
The Lifetime Achievement Award is a tribute to a person or organisation that has made a significant contribution to the catering industry over a long period of time. 
The full 2023 Public Sector Catering Awards shortlist includes:
Armed Forces Caterer of the Year (no nominations sought)
PO Aaron Lee, Royal Navy
Cpl William Salmon, RAF
Cpl Matthew Webb, Army
Care Catering Award
Care UK
Country Court
Anne Dudley, Hampshire County Council
Signature Dining
Thurlaston Meadows Care Home
Catering College Award
Loughborough College
Eastleigh College
John Holden, Cheshire College
Sean Patterson, Farnborough College
Cambridge Regional College
Catering Manager of the Year Award
Yvonne Barclay, Education Authority NI
Rudi Keyser, Great Ormond Street Hospital (Interim)
Rosa Losa, Medirest
Gavin Loud, TNS Catering
Lee Taylor, Academy
Chef of the Year Award
Chris Durham, TNS Catering
Dave Mercer, Impact Food Group
Raheem Morgan, Chartwells
Scott Tame, Care UK
Wayne Wright, Bidfood
Contract Caterer of the Year Award
CleverChefs
Impact Food Group
Olive Dining
The Pantry Catering
Waltham Forest Catering
Education Catering Award
Blackpool Catering Services
Dolce Schools Catering
Jane Ford, TNS Catering
Isle Education Catering Team
Raheem Morgan, Chartwells
Health and Nutrition Award
ISS UK
Compass Group
Country Court
Aramark UK
Impact on Urban Health
Hospital Catering Award
NHS Greater Glasgow & Clyde
Royal Brompton Hospital
NHS Food Review Expert Panel
Stockport NHS Foundation Trust
Innovation Award
Blackpool Catering Services
Elior UK
Great Ormond Street Hospital
Nottingham Catering
Argyll & Bute Council
Marketing Award
Aramark
Barnsley Schools Catering
University of Leicester
Norse Catering
Sodexo
Special Contribution Award
Food for Life Scotland
Food Matters
NHS Food Review Expert Panel
Duncan O'Neill, Stockport NHS Foundation Trust
School Food Matters
Sustainability Award
Brakes
King's College London Food Team
Nottingham Catering
Argyll & Bute Council
University of Bristol
Team of the Year Award
Bidfood Education and Healthcare Team
ESS
Sodexo
Stepping Hill Hospital
University of Leicester
Training and Apprenticeship Award
Compass Group UK & Ireland
John Holden, Cheshire College
Signature Dining
Jane Stapleton, Impact Food Group
Matt Vernon, Academy
University Catering Award
Cardiff University
King's College London
University of Bristol
University of Leicester
University of Chester
Unsung Hero
Lisa Connellan, King's College London
Caroline Lloyd, Care UK
Mark Meacham, HC-One
Anna Narloch-Bryan, Juniper Ventures
College Court Team, University of Leicester