22nd Feb 2021 - 05:00
Image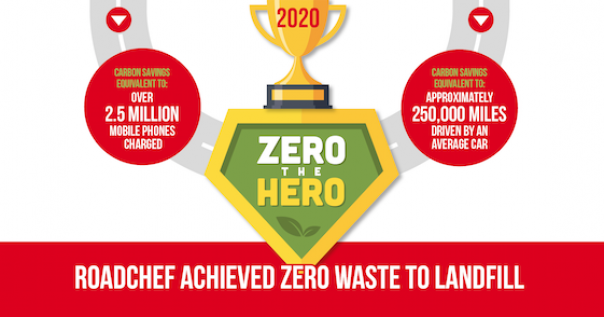 Abstract
Motorway service area provider Roadchef has announced it made carbon savings equivalent to approximately 250,000 miles driven by an average car in 2019-20.
Since the start of Roadchef's 'Talking Rubbish' campaign, the zero-waste accredited operator has implemented a series of eco-friendly measures and delivered its 'zero to landfill' promise.
One of the measures introduced was the closed loop PET recycling solution, which sees the plastic collected and recycled into Harrogate Spring water bottles.
Mike Jackson, director of supply chain management and head of charity at Roadchef, commented: "Caring, uncomplicated and positively obsessive are Roadchef's core values and we adhere to these in everything we do, including when it comes to the environment.
"In recent years we have worked with both Highways England and the government Department for Environment, Food and Rural Affairs (DEFRA), to help reduce the volume of litter along our roads and motorways.
"We also make it simple for our customers to recycle at Roadchef, and I believe this has helped us achieved our zero to landfill status. Working with key partners, this work to look after the environment will continue well into the future."
Other sustainable practices include the use of solar panels, recycling waste coffee grounds into biofuel and the use of food waste digesters. Roadchef was the first company in the UK to introduce reverse vending machines for coffee cups as well as plastic bottles in 2019.
Mark Fox, chief executive of Roadchef, added: "We take our responsibilities towards reducing our impact on the environment very seriously and we're delighted to have made real progress in recent years.
"We're looking forward to making even bigger inroads in the years ahead through water and energy efficiencies, electrification of our vehicle fleet and continuing to leverage technical innovation to reduce our impact on the planet. 
"We believe we can make Britain's roads a safer and happier place by de-stressing and delighting those who stop at our MSAs, whilst making sure we do that in an environmentally responsible way."