2nd Dec 2019 - 09:18
Image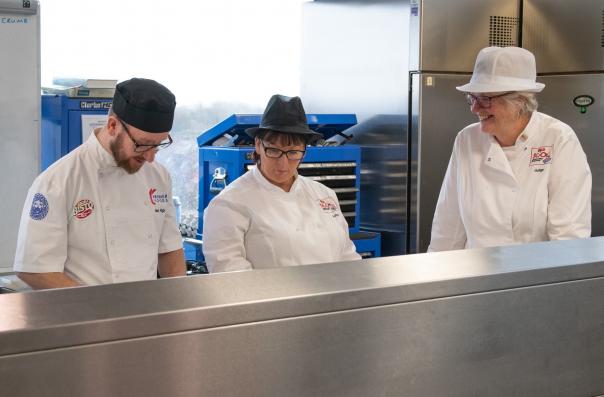 Abstract
Following the first round of judging of the LACA School Chef of the Year (SCOTY) 2020 competition on 23 - 24 October, 43 school chefs from all ten of the LACA regions have qualified to go forward to the live regional finals.
These will be held in five locations across Britain between December 2019 – January 2020 before the 2020 national final will take place at Stratford Upon Avon College on 5 March.
Organised by LACA and sponsored by McDougalls, competitors have 90 minutes to prepare, cook and present four portions each of a two course imaginative meal suitable for serving en masse to 11 year olds in primary or secondary schools.
The meal must comply with School Food Standards and take into account the East Well Guide 2016.  The food cost for one main course and dessert must not exceed £1.30 and a minimum of one different McDougalls product is required in each.
Commenting at the start of the 2020 regional finals, LACA national chair, Stephen Forster said: "There is no secret formula to succeeding in the LACA School Chef of the Year Competition.  It just requires school chefs with passion, dedication and oodles of culinary skill mixed together with delicious, nutritious dishes prepared with creativity and flair. Every year, this competition allows us to demonstrate to the wider world both the professional expertise of today's school chefs and the excellent meals they prepare tirelessly every day in schools across the country".
"The impact that this has on the health and vitality of children and young people cannot be underestimated. It underpins why all schools should provide quality, nutritious meals.  Our school catering teams are totally committed to the role they play in educating children and young people about how food and eating better can help them achieve more, both academically and physically. LACA School Chef of the Year is a celebration of all that's best about education catering.  Good luck to all of our 2020 regional finalists".
Mark Rigby, executive chef at Premier Foods, added: "Firstly, we want to say a huge thank you to all the school caterers who entered this year's School Chef of the Year competition, sponsored by McDougalls. As our second year sponsoring the contest, our expectations have been surpassed yet again with plenty of flair and creativity, particularly taking into account the restrictions of the tight time limit. All of the judges have been extremely impressed with the expertise that the chefs have shown; creating an innovative meal that is not only tasty and delicious but is also nutritious and cost-effective".
"It's been a tough decision looking through all the entries at the preliminary judging stage and deciding which of our entrants have made it through to the regional finals as they have been at such a high standard. Entrants have really showcased the excellence in school food catering up and down the country, with dishes including everything from Chicken Shawarma Kebabs to Rabbit Pie. We can't wait to see these come to life in the regional finals over the next few months. Good luck!".
The regional finals are:
December 2019
Monday 2 December – Manchester College (Wythenshawe Campus)
North West
January 2020
Wednesday 8 January – Barnsley College
Yorkshire & Humber
North East & Scotland
Thursday 9 January – Melton College, Melton Mowbray
East Midlands (morning)
West Midlands (afternoon)
Monday 13 January – Weston College, Weston super Mare
South West
Tuesday 21 – Thursday 23 January - Premier Foods HQ, St Albans
East of England (21 January)
South East (22 January)
London (23 January)
Wales (venue & date tbc)