22nd Jun 2020 - 07:54
Image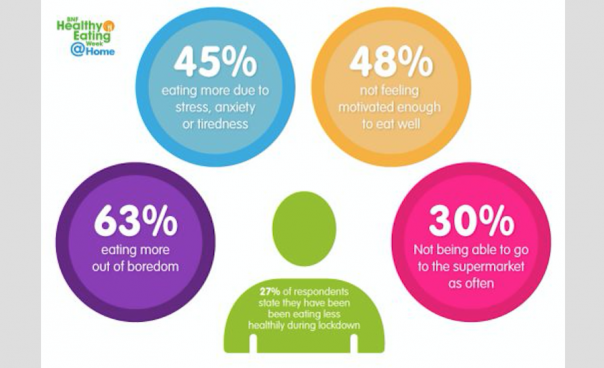 Abstract
A survey commissioned by the British Nutrition Foundation (BNF) has revealed that just over a quarter of people (27%) admit to eating less healthily during lockdown.
Of these, nearly two-thirds (63%) attribute 'boredom', and 45% say 'stress, anxiety and tiredness' are the main reasons for eating less healthily than usual during lockdown, while 48% also mentioned 'not feeling motivated enough to eat well' as one of the main factors for them.
Sara Stanner, science director at the BNF said: "While the coronavirus outbreak has brought the importance of health to the forefront, the measures we've had to take as a nation to control the spread of the virus have made it challenging for many of us to eat well and keep active.
"With lots of us still at home more than normal, it's easy to spend a lot of time sitting and to feel less motivated to eat healthily.
"It's encouraging that, despite this, many people are now going for regular walks to keep active, are taking time to plan what they eat, and are trying new recipes.
"People are also clearly looking to improve their health as the lockdown measures ease, with getting active, losing weight and eating healthily all cited as key priorities."
However, 50% of those surveyed did not feel their eating habits had changed, while 22% actually thought they were eating more healthily.
Looking at the reasons why those who say they are eating less healthily are doing so, 30% claimed that not being able to go to the supermarket as often made it difficult for them to eat healthily.
The research has been conducted in parallel with the launch of BNF Healthy Eating Week @ Home, a virtual event, taking place this week (June 22-28), which aims to encourage people of all ages to take part in a range of key health challenges based on healthy eating, wellbeing and the benefits of physical activity, as well as trying out new healthy recipe ideas.
The new event is an online alternative to the annual BNF Healthy Eating Week, which normally takes place within schools, nurseries, universities and workplaces in June.