1st Jul 2022 - 05:00
Image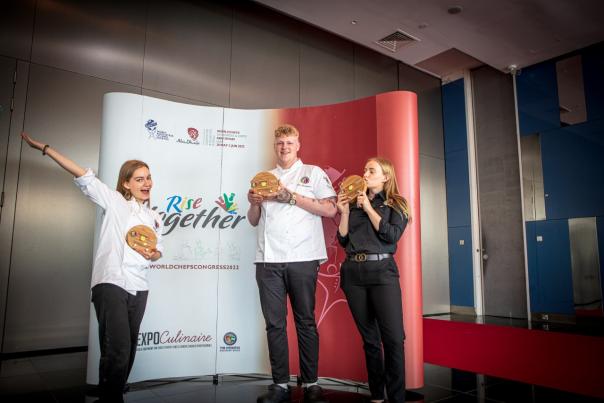 Abstract
Nestlé Professional whisked the three 2022 Toque d'Or winners away for a 'once-in-a-lifetime' gastronomic tour around the Persian Gulf.
The trio on the trip included Samantha Watkins, Loughborough College (BOH Student), James Shuttleworth, The Tower Hotel (BOH Apprentice) and Tara Humphrey, City of Glasgow College (FOH Student).
The trio enjoyed an Arabic BBQ under the stars in the Lahbab desert, fine dining in Dubai's opulent L'Olivo at Al Mahara (7-star hotel Burj Al Arab) and also attended the Worldchefs Congress sponsored by Nestlé Professional.
At the Worldchefs Congress, they watched the final 70 competitors battle it in the Global Chef's Challenge. They also dined at the Garden Gourmet booth with the Nestlé Professional team and heard Nestlé Professional global head of food Cornel Krummenacher explain how plant-based foods reduce greenhouse gas emissions.
Samantha said: "The Toque d'Or Winners Trip has been an incredible experience and I am so grateful to have been on such a trip! The whole trip has been insane, and I can't pick a favourite moment, it was all fantastic.
"I really enjoyed the different food cuisines we experienced throughout the week, and it has given me a lot of inspiration for my future dishes. It was a busy week full of exciting activities but also a time to relax and treat ourselves after a busy time in hospitality, although I did miss the service buzz. The trip went so quick and now seems like a dream."
The three winners gathered inspiration from Persian herbs and spices in Dubai's Spice Souk and enjoyed cultural and tourist attractions including a trip to Emirates Palace, a camel caravan ride and a boat trip.
Katya Simmons, managing director of Nestlé Professional UK&I, added: "All of our entrants put their hearts and souls into Toque d'Or - this comes through in the quality of their dishes and their service. The winners really shone during the final challenge, so it's a real pleasure to reward them with such a fabulous trip.
"After months of hard work and dedication, we thought it would be good for them to experience first-hand some of the world's finest food and hospitality. And for extra inspiration, to watch the world's top chefs compete in the prestigious Worldchefs Congress. Who knows, perhaps we'll get to see them compete there on the world stage one day."