21st Oct 2019 - 10:08
Image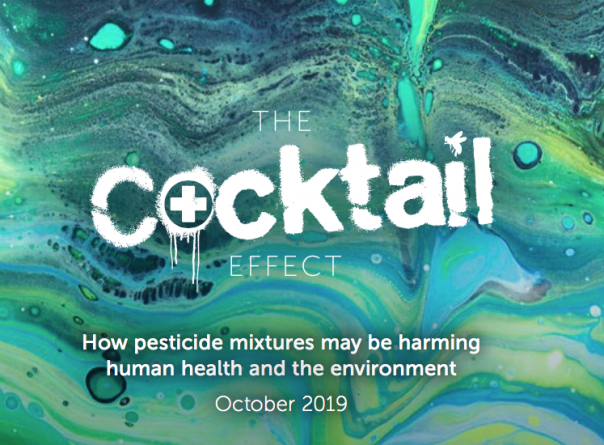 Abstract
The Pesticide Action Network (PAN) UK and The Soil Association released a report, 'The Cocktail Effect', which has revealed around one quarter of all food and a third of fruit and vegetables consumed in the UK contain 'pesticide cocktails'.

'Pesticide cocktails' can be defined as the mixture of pesticides, which interact to produce the 'cocktail effect'. Some food items have been found to contain up to 14 different pesticides.
The report warns that post-Brexit trade deals could lead to a rise in the number of pesticides authorised for use in the UK.
Josie Cohen, head of policy & campaigns for PAN UK, said: "Because of the overuse of pesticides in UK agriculture, we are constantly exposed to a wide array of different chemicals which can interact to become more toxic creating a 'cocktail effect'. 
"Yet the Government continues to assess the safety of just one pesticide at a time. The truth is we simply have no idea of the human health and environmental impacts of long-term exposure to hundreds of different pesticides."
In 2017 87% of pears, 64% of apples and 25% of bread contained 'pesticide cocktails'. The Government's testing data for 2018 showed residues of 157 different pesticides. The report also revealed that 67% of the soil tested in Britain contained 'pesticide cocktails'. 
The health effects of 'pesticide cocktails' include obesity, impaired liver function, the creation of cancerous cells and disruption of the endocrine system.
According to PAN UK and The Soil Association the Government conducts limited testing for 'pesticide cocktails' in food but fails to assess the pesticides to which the environment is exposed to. 
Rob Percival, head of policy at The Soil Association, added: "The UK Government has committed to reducing pesticide use, but the support farmers need to transition away from pesticides simply isn't in place.
"The Government urgently needs to support farmers to adopt nature-friendly, agroecological approaches that don't rely on pesticides, including organic, to better protect both human health and the natural world.
"Brexit poses real threats to food and farming, but it also provides an opportunity to do things differently, if the right policies and legislation are put in place."
To read the full report, visit: