4th May 2022 - 09:16
Image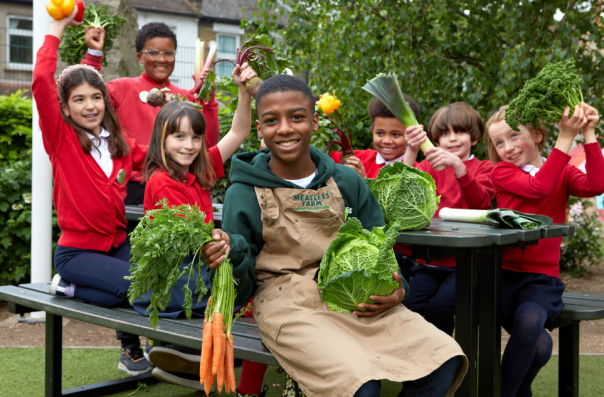 Abstract
School dinners in Waltham Forest are the greenest in the UK serving up one million plant-based school meals a year across 50 primary schools.
Waltham Forest Catering have weekly 'Save the Planet' days and helped create plant-based dishes such as creamy coconut korma, butternut squash and chickpea tagine, Jamaican patties and planet friendly pizza.
The Green School Menu League was launched earlier this year by Meatless Farm in collaboration with the UK's youngest vegan chef Omari McQueen and non-profit ProVeg UK's School Plates programme to find the UK's greenest school menu to inspire, educate and encourage children to eat more sustainable food with a mission to make 15 million school meals meatless this year.
Christine Cornall, Waltham Forest Catering operations manager, said: "We are so pleased to be top of the Green School Menu League. The whole catering team has worked so hard to ensure that the meals we provide to the children are more sustainable but equally nutritious. It's been great to see how much fun the children have had with Save the Planet day. It's a fantastic achievement for the 50 schools we serve within the borough."
Children from Jenny Hammond Primary School, one of the 50 Waltham Forest schools serving Waltham Forest Catering's winning green menu, will today receive a live cooking masterclass from McQueen, star of the CBBC 'What's Cooking Omari?', learning more about the benefits of plant-based foods and trying out McQueen's recipes.
McQueen will award £5,000 investment towards the school's sustainable eating programme, including Meatless Farm products. ProVeg UK will also provide a plant-based workshop for Waltham Forest Catering later this year to help drive more sustainable eating to make a difference to the planet.
McQueen added: "Children in Waltham Forest have taste tested the plant-based dishes served on their menus and are inspiring more delicious sustainable school meals. These menus are what children want to eat, and the adults!
"I think Save the Planet days are a great idea to have every week and it makes me happy to see that they have plant-based options on the menu every day to help make a difference to the world around us. Every school menu should be like this one."
The Greenest School Menus in the UK:
London Borough of Waltham Forest Catering
North Yorkshire Council
Academy for Character & Excellence (ACE), Devon
Thomas Deacon Academy
Salford City Council (Citywide Services)
All runners up will receive a case of Meatless Farm plant-based burgers, sausages, meatballs and mince to recognise their dedication to more sustainable meals.
The Green School Menu League initiative is part of Meatless Farm's 'For Kids by Kids' campaign aimed at making more menus meatless in schools in partnership with McQueen, and the company's aim to educate five million children globally about sustainable eating by 2023.