20th Nov 2023 - 06:00
Image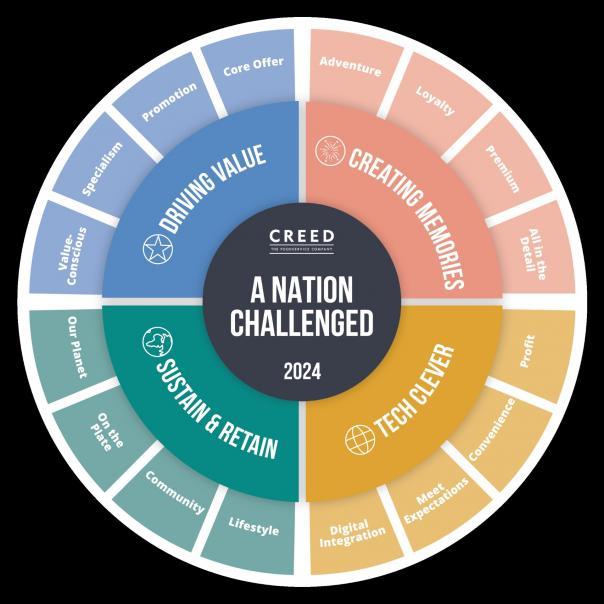 Abstract
Creed Foodservice has unveiled the Creed Trends Hub, which aims to help hospitality, education and care home caterers to learn more about the 2024 trends and how to bring them to life in their settings.
The 2024 Creed Trends in food and drink are visualised in the form of the Insights Wheel. At the core is 'A Nation Challenged', referencing the macro trends driving long terms shifts to the nation's behaviour. Underpinning this, are 16 trends being seen in the market, that fit within 4 consumer-led missions which are:
Driving Value: value conscious, specialism, promotion & core offer
Creating Memories: adventure, loyalty, premium & all in the detail
Sustain & Retain: our planet, on the plate, community & lifestyle
Tech Clever: digital integration, meet expectations, convenience & profit
The Creed Trends Hub launched in November, and has a dedicated zone for education caterers as well as hospitality and care home caterers. 
Amanda Clapson, Creed insights manager, commented: 'By partnering with key data and insight sources across the foodservice industry, we have access to a range of industry and sector insights and reports.
"My role within Creed is to analyse the latest data and identify the key elements that are relevant for our customers, sharing this is an easy to digest format with suggestions of key changes that our customers can action to ensure they stay relevant within the market.
"Alongside the quarterly commodity and insight & market reports you see below, I work closely with our development chefs and account managers to provide tailored insight reports for our key customers, supporting their objectives."