8th Jun 2022 - 09:08
Image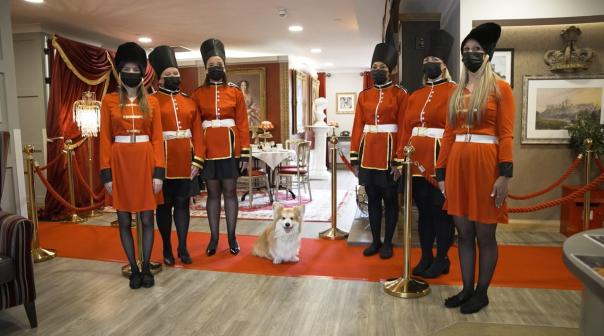 Abstract
Residents at Care UK's Mountbatten Grange received the royal treatment when they woke up to find their home had been 'transformed' into a regal residency fit for a Queen.
Residents were greeted by team members dressed as the Queen's Guard, before being led down the newly laid red carpet. The home's head chef Mohamed Taghouti prepared an afternoon tea featuring sandwiches, cakes and scones for residents to enjoy.
Debbie Winwood, home manager at Mountbatten Grange, commented: "Here at Mountbatten Grange, we base our activities and special events on residents likes and interests and are always looking for new and exciting ways to support residents lead fulfilling lives. We have many royalists living here, especially being so close to Windsor Castle, and knew how keen they would be to celebrate the Platinum Jubilee, which is why we decided to celebrate in style.
"Nobody could believe it, especially when they saw us all dressed up as the Queen's Guard and Marcel le Corgi running in. We had so much fun, and we're already planning our next big surprise for residents to enjoy. Just like the jubilee – this was certainly a memorable day and one which we will remember for many years to come."