11th Jul 2023 - 10:34
Image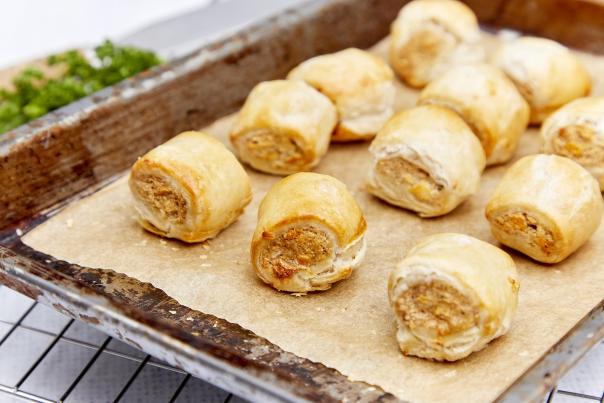 Abstract
Frozen food distributor Central Foods has launched the KaterVeg! vegan cocktail sausage roll for the school food service sector.
Ideal for serving to primary schoolchildren, the KaterVeg! vegan sausage rolls are bite-sized and made from pea protein. They are available ready-glazed and ready to bake – offering food service operators a mini version of the four inch and six inch KaterVeg! vegan sausage rolls also supplied by Central Foods.
Gordon Lauder, managing director of Central Foods, said: "The new KaterVeg! vegan cocktail sausage roll is made to the same recipe as our popular four inch and six inch vegan sausage rolls, which have gone down well on menus up and down the country.
"The demand for tasty plant-based products continues, both from those who don't eat meat and flexitarians who are reducing their meat intake, and this new product launch will help school caterers to serve tasty vegan options to youngsters but which will also be suitable for all."
The 15g KaterVeg! vegan cocktail sausage rolls are available in packs of 200 and simply need baking off before serving.
Central Foods, based at Collingtree near Northampton, is 'one of the UK's leading frozen food distributors'. The company was founded more than 25 years ago and is a catering partner across the whole food service sector, supplying to hotels, restaurants, bars, universities, schools, pubs, care homes, garden centres, leisure outlets and more.
It currently sells to over 180 independent wholesalers, as well as larger national and regional wholesalers. For more information about Central Foods visit: www.centralfoods.co.uk.