5th Oct 2021 - 10:26
Image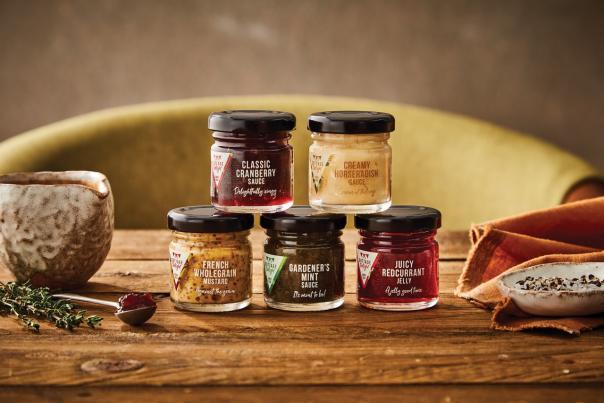 Abstract
British specialty food producer Cottage Delight has launched an eco-friendly range of single-serve condiments for the hospitality industry.
Cottage Delight has released its classic condiments in a new mini jar format, which is perfect for individual use and is available for home delivery.
The range includes:
Juicy Redcurrant Jelly – A tangy ruby jelly, perfect with meat or cheese and packed full of fruity redcurrants.
Gardener's Mint Sauce – A classic British condiment that has the perfect balance of mint with a hint of lemon.
Creamy Horseradish Sauce – Finely grated horseradish and smooth fresh cream combine to create a luxurious creamy sauce.
French Wholegrain Mustard – Mouth popping mustard seeds for a rich intense flavour in this authentic recipe.
Classic Cranberry Sauce – This traditional recipe is packed full of fabulously fruity cranberries for a deliciously juicy flavour.
Chefs and caterers can try all five classic premium condiments  by visiting: https://www.cottagedelight.co.uk/trade/single-serve-condiments/ and requesting their free sample pack which includes x1 Juicy Redcurrant Jelly, x1 Gardener's Mint Sauce, x1 Creamy Horseradish Sauce, x1 French Wholegrain Mustard and x1 Classic Cranberry Sauce. The 250 samples are only available to bona fide chefs in the UK, who are aged 18 or over.
Dominic Challinor, foodservice sales manager at Cottage Delight said: "Taste and hygiene have never been so important to kitchens.
"The launch of our single-serve Cottage Delight range means operators can now offer high quality condiments that are handcrafted with as much care as the dishes they serve. They are not only delicious, but safe and better for the planet!
"Helping to support those businesses looking to minimise single-use plastic in their operation, this range is a win-win for operations, consumers and the environment."