11th Jul 2022 - 04:00
Image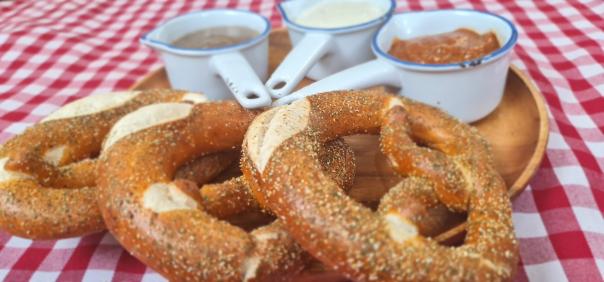 Abstract
Funnybones Foodservice has launched the 'pretzel to end all pretzels', which it claims to be the 'tastiest, chewiest and most garlicy' pretzel you could wish for.
In 2021 the pretzel market reached a value of US$ 1.65 billion, and it is predicted to rise again this year. Funnybones believes the time is right for the UK to take to pretzels with the same enthusiasm.
The pretzel is Swabian style from South Western Germany, and it is filled with garlic and herb butter. Serve up as a side with pasta, as part of a sharer or alongside soups and starters. It even makes a great starter on its own with more garlic butter, cajan tomato sauce or redpepper jam to dip into.
The Funnybones Swabian pretzel arrives fully baked and frozen. It can be cooked from frozen in two to three minutes. There are 48 to a case.
Tom Styman-Heighton, development chef at Funnybones Foodservice, said: "A really good pretzel is a wonderful thing. They should be served slightly warm to ensure they are at their best. We are accustomed to a crunchy biscuit style pretzel here but the Americans enjoy the real mccoy. The best pretzels deliver a chewy outer enclosing a softer interior, are brown in colour, often salted and always made from a long roll of dough tied in a knot.
"Just like the focaccia, the baguette, and the ciabatta, the pretzel is set to become one of our favourite breads for serving alongside food. Pretzels are poised to take their place as the side of choice to serve with American dishes in this country. Perfect with ribs, mac n' cheese, hearty salads and steaks, they are an ideal American-style bread choice for the menu."