28th Apr 2022 - 04:00
Image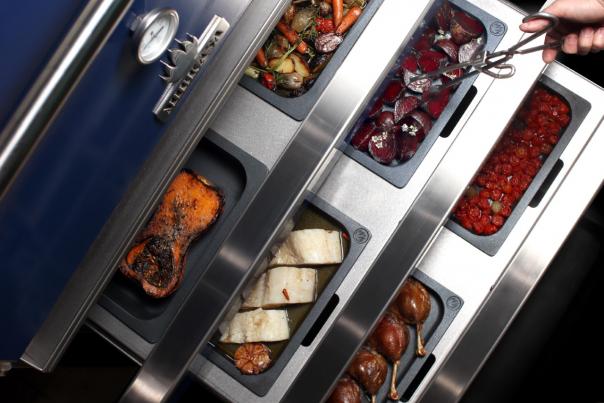 Abstract
Jestic Foodservice Solutions has launched the Mibrasa Hot, which is designed to be the 'most comprehensive charcoal oven'.
The Mibrasa Hot takes streamlined cooking 'to the next level' thanks to the addition of three space saving and gastronorm pan compatible holding drawers, in which chefs can confit, slow cook, regenerate or rest. Using residual heat from the oven itself, the drawers maintain a consistent temperature of between 55ºc and 90ºc.
The Mibrasa ovens are powered by natural heat so operators will not be hit by the rising gas and electricity costs that are affecting many other pieces of equipment.
Michael Eyre, culinary director for Jestic Foodservice Solutions, said: "The Mibrasa Hot is not only game-changing for a chef that wishes to charcoal cook and hold foods in a single unit, but also for chefs that wish to slow-cook, regenerate, confit, rest and even dehydrate foods.
"This is because each of the three Mibrasa Hot holding drawers have a temperature range between 55ºc and 90ºc to give total flexibility. All the drawers can accommodate either full, half or one third gastronorm pans depending on the needs of the chef."
The Mibrasa Hot comes in three models; the standard HMB Hot with holding drawers, the HMB Hot SB that has the addition of a heating rack and the HMB Hot AC which features a top heated cupboard. Each model within the Mibrasa Hot range is available in five colours; red, stainless steel, black, yellow and blue.