28th Jan 2022 - 06:00
Image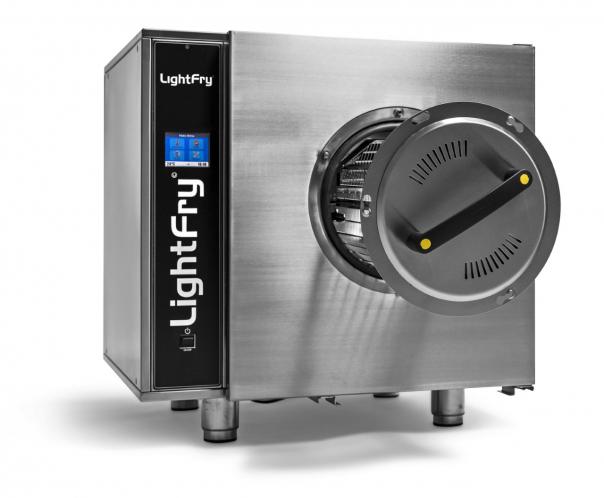 Abstract
CuisinEquip has added to its existing portfolio of catering equipment with the launch of Lightfry, an 'innovative' range of commercial air fryers.
Designed and built by Swedish manufacturer, Eatgood, Lightfry uses an intelligent combination of hot air, steam and rotation to cook foods using an oil-free process. Delivering the same great taste and texture of those items that are traditionally fried, the unit is also capable of steam cooking, grilling and roasting to consistently high standards.
Available in a choice of two models, standard, with an output of up to 22kg per hour, or high capacity, capable of producing up to 32kg per hour, Lightfry is optimised for busy footfall sites.
Thanks to its unique design and optional extractor hood, the unit is also ideal for those without dedicated ventilation systems. Automatic emptying and an integrated cleaning system ensures operators can benefit from ongoing labour-saving efficiencies when using Lightfry.
Featuring a simple, icon driven interface, users simply select the cook cycle from the menu, allowing the technology to do the rest. Full USB connectivity enables menus to be quickly updated, ideal for group and chain businesses looking to achieve consistency across their estate.
Steve Elliott, sales director at Valentine & CuisinEquip, commented: "We are delighted to announce that CuisinEquip is now the exclusive UK distributor for Lightfry. Air frying is something that has become common in the domestic market, but the uptake has been more measured from commercial operators. That's now starting to change, particularly in sectors were traditional oil fryers are not permitted such as healthcare, education and those sites without extraction.
"We have found that Lightfry is not replacing a kitchen's traditional fryer but supplementing it, giving operators greater flexibility when planning their menu. We believe that Lightfry therefore complements our existing portfolio.
"By using pioneering technology and a unique combination of cooking methods the unit produces the much-loved crispy texture and taste of traditional fried foods. Designed with the operator in mind, the units can also drive energy and labour efficiencies and enhance safety in a busy kitchen environment."