6th Jun 2022 - 15:36
Image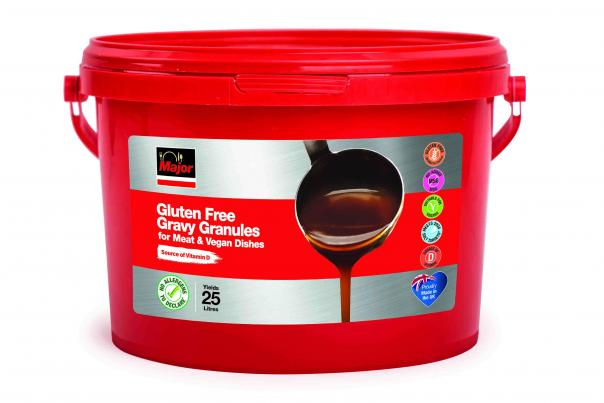 Abstract
Major Gluten Free Gravy Granules with added vitamin D is available in a choice of meat or poultry flavours, are free from allergens, suitable for vegetarians and vegans and meet 2024 salt standards.
A government study has estimated that more than one in ten of adults in the UK are deficient in vitamin D, which is required to maintain healthy bones and muscles.
The granules quickly dissolve in boiling water, creating a gravy that is 'thick, flavoursome and a great source of vitamin D', providing up to 40% of an adults recommended daily allowance per 100ml of gravy. By simply adding to boiling water or roast pan juices and whisking for 30 seconds, chefs can serve a consistent, quality gravy with a rich and balanced flavour.
Paul Saunders, marketing manager at Major, said: "We are immensely proud to announce the launch of our Major Gluten Free Gravy Granules with added vitamin D. Featuring the much-loved flavours from our market-leading gravy range, the new products have been fortified with vitamin D – something that's essential to healthy bodies.
"For years, some products, including cereals and certain spreads have included added vitamin D, but this is the first time a gravy has been available. Particularly suited to care caterers, where the elderly are one of the most at risk of a vitamin D deficiency, our new gravy range is a dose of sunshine on a plate.
"The large 2kg resealable packs are suitable for commercial kitchens, while the choice of meat or poultry enables a choice of flavours. A recipe containing no allergens and suitable for both vegetarian and vegan diets allow a chef to serve one gravy for all."
The Government goes as far to recommend that everyone should consider topping up their vitamin D intake, especially during the autumn and winter months.