26th May 2022 - 04:00
Image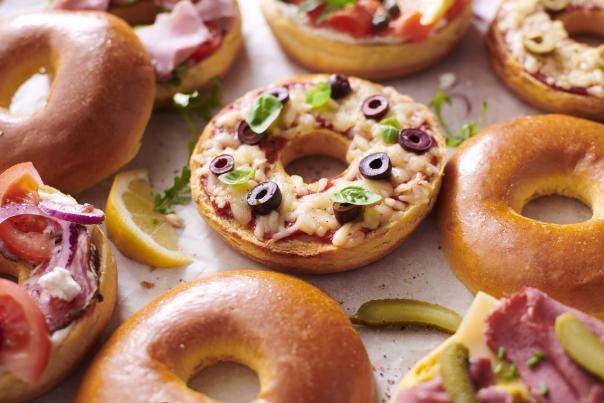 Abstract
Bakery brand St. Pierre is giving caterers greater choice to tap into the growth of the bagels sector with launch of new brioche bagels to foodservice.
Bagel sales are up 23% in the last two years and whilst the growth has slowed in more recent times it remains the biggest sub-category within morning goods- worth £144m according to Nielsen. 
The brioche bagels add to an extensive range of St. Pierre brioche products for foodservice including burger buns, seeded burger buns, hot dog rolls, baguettes and sliced loaves, supporting operators to tap into the growing trends for premiumisation and speciality breads. St. Pierre is the fastest growing bakery brand in the UK, with 193% growth in the last two years.
Scott Oakes, commercial manager for St. Pierre, said: "We've taken the quality brioche for which we're known and applied it to a bakery staple, and it's working. The Monterey Jack's chain in Scotland have already launched a bagel burger using our product and heralded the new menu item with a dedicated TV advertising campaign.
"This is the latest step in our strategy to break into the top ten biggest UK bakery brands as we continue to maximise consumer trends, work collaboratively with partners and listen to our customers in every setting. This approach has well and truly put us on the map - three St. Pierre products alone have added £8m to the rolls category in the last year, which is more than some of the biggest names in bakery."
Serving suggestions:
Breakfast Bagel - spread some smashed avocado onto the bottom of the bagel, before topping with some crispy bacon, a fried egg and some spinach. This will definitely kick start your day in the best way.
Pizza Bagel - spread tomato puree onto the bagel before sprinkling on some grated cheese and whatever toppings you fancy. We've opted for a few olives and some basil.
Ham Salad Bagel - cream cheese with sliced ham, cherry tomatoes and crisp cucumber.
Salami & Feta Bagel - slices of salami with some crisp red onion, chopped tomatoes and crumbled feta.
Pastrami & Mustard Bagel - English mustard, slices of Swiss cheese, pastrami and gherkins on top.